It's been six months in the making but today we launch the Bible in Three for others to hear! I thought I'd share a few thoughts on how and why the Bible in Three came about.
Several years ago, I felt this nudge to create a podcast. I didn't know what I would talk about or how it would happen but I just felt it was something I needed to do. About a year ago I had the opportunity to be a part of our church's podcast But Wait, There's More. It was really rewarding to sit across from my friends and talk about parenting and neighboring and even my favorite movies.
But still I felt like there was more.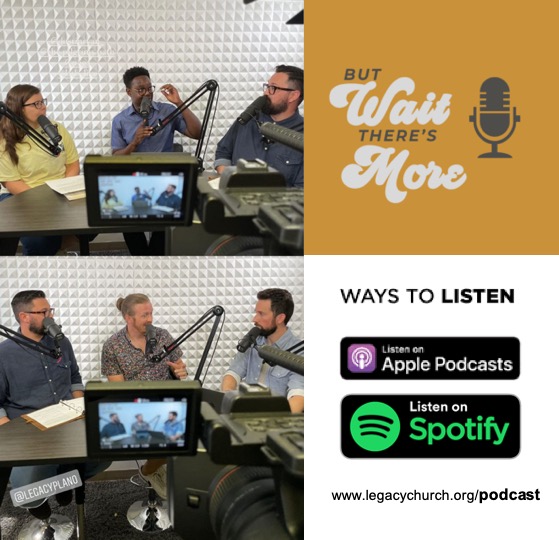 Birth of Bible in Three
Fast forward a bit to this fall where as a part of my apprenticeship, my mentor, friend, and master podcaster, Rebecca Carrell of Honestly, Though, challenged me to record a 3-minute podcast about my favorite verse.
And well—I couldn't just start recording. I mean I could have just started recording but something inside me needed to pretend the podcast already existed. So I made an introduction and a conclusion and then plugged my favorite verse in the middle.
Rebecca, in all our conversations about podcasting had been so kind and encouraging but as I sat across from her—playing my recording—something happened I didn't expect. She really liked it. Like really liked it. "I think you could really do something with this, Patty," she said. And I agreed. It was more than a homework assignment. It was the birth of the Bible in Three.
How it Works
So why do I call it the Bible in Three? Well—because it has three segments. And also because it lasts about 3 minutes. World's shortest bible study. Amiright?!
We start with the background of the book. Studying things like who wrote it and when was it written and who was it originally for.
Next, we break down the book into simple segments. For example, the book of Ephesians can be broken down into 2 segments—chapters 1–3 and 4–6 and it's all about the behavior of the church and the doctrine or beliefs of the church.
Finally, we zoom in on a particular scripture, determine its meaning and then apply it to our own lives. All in 3 minutes. I know, right! I also provide more resources in the show notes you can use to dig deeper!
Why Bible in Three?
As I near graduation, I want to give back what has been given to me. My day to day, nine to five, is still unknown but this little project is my way of stewarding my degree—a thanks to the Lord, my professors, and especially my family for investing in me through this four-year process.   
Check It Out!
I'm so excited to launch this podcast. If you've ever felt like you didn't understand what you were reading or didn't have the time to dig in, I really hope this podcast might encourage you.
You can check it out HERE