The car sat idling. Charlee chattered from the backseat telling me all about Jane Goodall, "the woman who loved chimpanzees." I smiled as I leaned forward waiting for a break in traffic. Then the red van pulled to the left of mine—blocking my view. I inched up in order to see—only for her to match my incremental movement. And then—though no audible words reached my ears through the double glass of our vehicles—her facial expression and rapid hand movements told me all I needed to know.
She turned left. And I turned right.
At first, I found this encounter amusing. How could someone get so angry over what I assumed was my snail's pace in turning? As we drove, the amusement shifted to sadness. What kind of stress or anxiety must she be feeling to flip out like that?
Though I didn't t know this woman's circumstances, I knew her posture. One in which an unexpected delay piled upon an already wounded heart could cause anger to well up in disproportionate amounts.
The Bravest Thing
In her song The Bravest Thing, Ellie Holcomb sings:
You're gonna want to rush through this
You're gonna try to move on
People will praise you for being resilient
They'll say you're so brave and so strong
Isn't that how it is? We don't want to feel pain. We want to rush through it to get to the good stuff.
But we know that's not how it works—as Lois Lowry masterfully illustrates in her book The Giver. On the year he turns 12, Jonas is selected to be the next receiver. He receives all the community's memories therefore sparing others from the weight of those experiences. Some memories are glorious—like sledding down a hill coated in snow. Others are painful—like witnessing the aftermath of a war. After a few weeks of receiving these memories, Jonas finds that dinner conversations with his parents and sister fall flat. Because of their sheltered lives they've experienced neither joy nor sadness.
"They have never known pain, he thought. The realization made him feel desperately lonely…"

Lois lowry—THE GIVER
It's a strange experience to think that pain in isolation can create loneliness that far surpasses the actual pain—but it does.
Loneliness
David knew this loneliness.
In Psalm 34, we read in the superscript that David wrote this song while thinking about the time he pretended to be insane to save his life. While his words are significant enough—considering his immediate circumstances—the other events leading up to this frame the depth of his reliance on God even more so.
He's anointed king, but goes back to his every day duties serving the ruler he'll eventually replace (1 Samuel 16:12-13, 21-23).
Speaking of said monarch, King Saul has repeatedly tried to kill him (1 Samuel 18:9-12, 17-20; 19:9-17; 20:30-31).
And oh yeah Jonathan, Saul's son is his best friend and he has to say goodbye to him—for good ( 1 Samuel 20:41-42).
And then has to pretend to be insane to save his life (1 Samuel 21:12-15).
Which brings us to David's words in Psalm 34.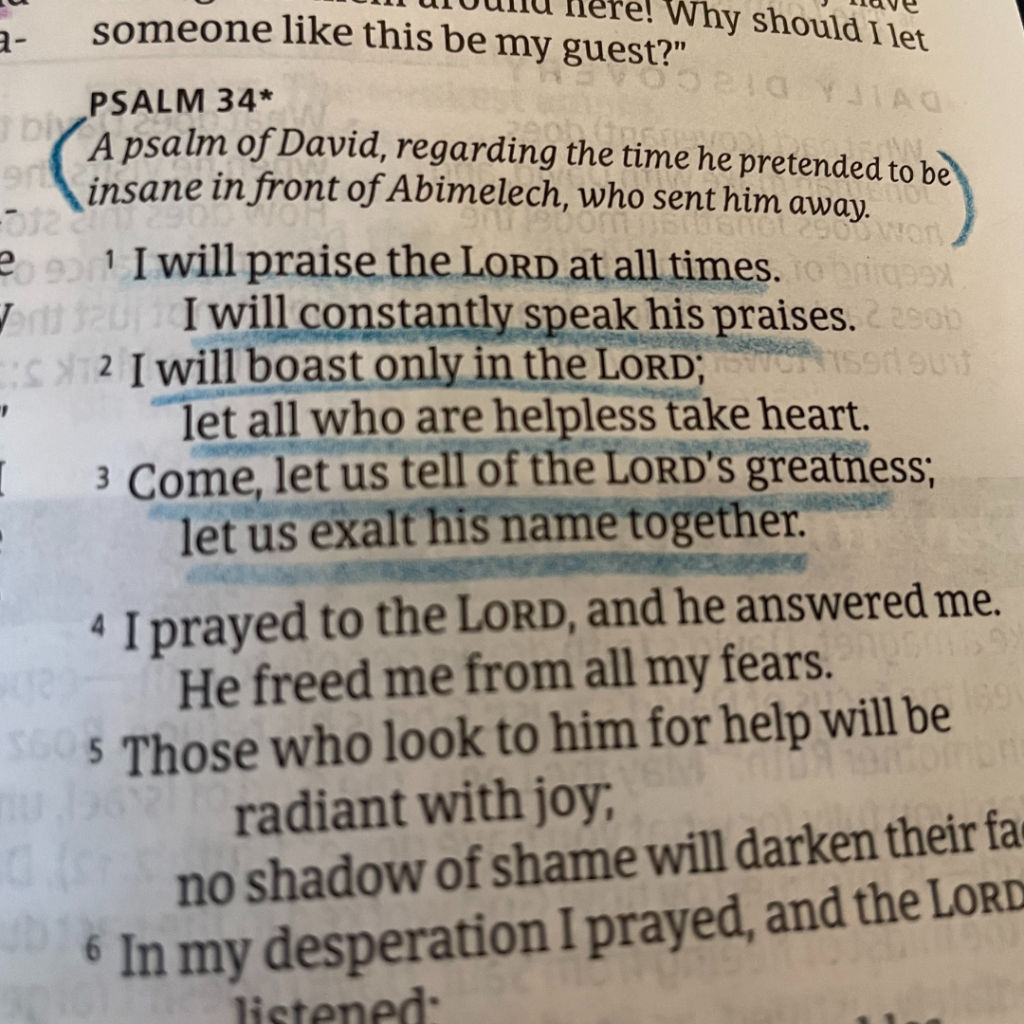 How could David remain so steadfast with all these fresh memories simmering in his head and heart?
Henri Nouwen writes in his book, Life of the Beloved, "…each time we confess openly our dependencies and express our trust that God can truly set us free, the source of our suffering becomes our source of hope."
Why could David say later in his song, "The Lord is close to the broken-hearted; he rescues those whose spirits are crushed."? Because his hope was in the living God who meets us in our pain and brokenness. 
Where You Are
My son Devin is an old soul. When he was a baby, a friend told me he looked like Winston Churchill. And well he did.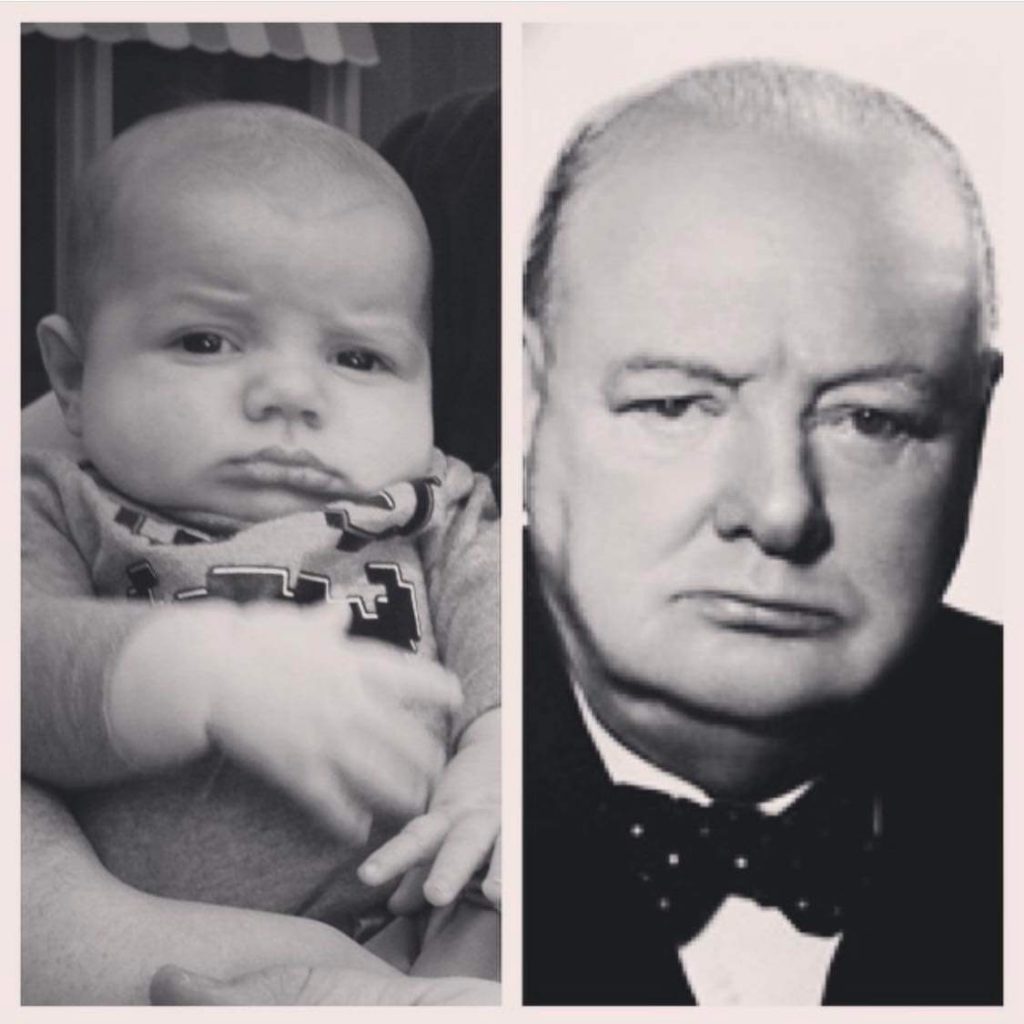 Though his elderly looks have lifted, his old-soul ways remain. While building a blanket fort he said to his sister, "The place you are is the place you can be and no more."
"The place you are is the place you can be. And no more."

Devin, age 8
What if instead of trying to rush through our pain, we sat in it. What if we invited others in to share our grief even if they struggle to understand its depths.
And may we invite God to be a part of our pain—for He understands completely. May we, like David, place our hope in the living God who meets us in our pain and brokenness. The One who will one day wipe away every tear. Pain will be no more. And we'll praise the Lord for what He has done.
But for now—in the middle of our brokenness and pain—we can "praise the Lord at all times."