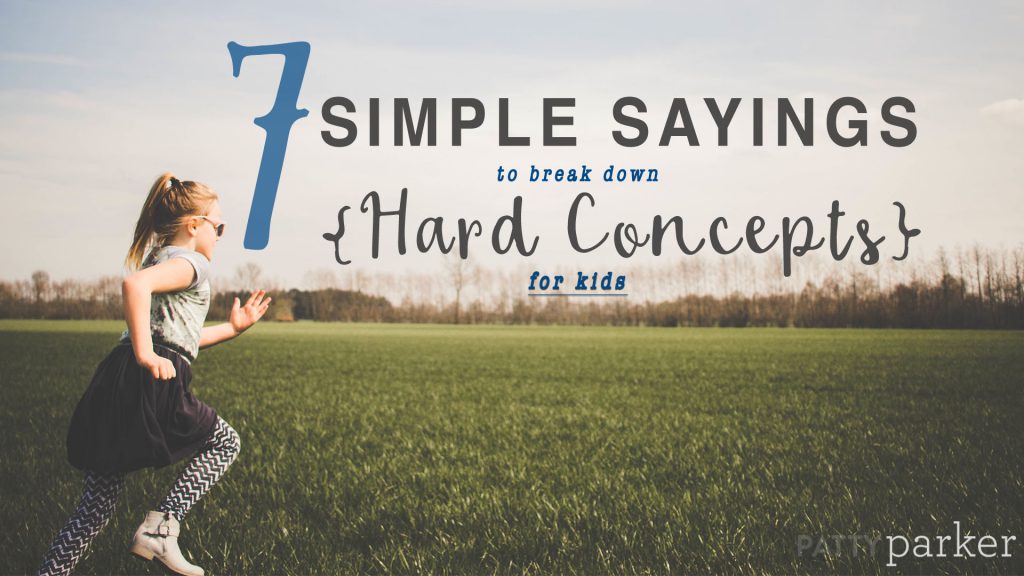 There are many phrases in the English language that are just too abstract for small children to understand, and yet, we say them over and over again wondering why our children don't get it. What would you do if I told you to pull up your sleeves? You would grab the fabric surrounding your wrists and slide it up until it was even with your elbows. How did you know to do that? Someone broke down the concept for you by showing you how to do it. That's what I think these simple phrases that break down hard concepts accomplishes. Here are 7 of my simple sayings.
1. Slow Down. Look around. Be safe.
When my firstborn was very little, he would question why we were stopping at red lights. It was easy enough for me to say: "Red means stop. Green means go." This answer satisfied him. When we would go through a school zone, however, he had a very difficult time understanding why we were going so slow. At first I was using lots of words to explain a concept really beyond his 3-year-old comprehension. After many failed attempts to explain, I started saying in a sing song voice. "We slooooow down. We look around. To be safe!" We would say this once or twice going through the school zone and by then we were through the school zone and on our merry way. And my son had a preschool sized explanation for why we went slow. I, too, had a great reminder as to why I needed to slow down.
2. Patience is waiting with a good attitude and making the right choice while we wait.
Several years ago, I worked at a preschool. Our 4-year-old class was getting antsy as they lined up for their next activity. I reminded them to be patient and followed up with the question: "Does anyone know what patience is?" As the words escaped my mouth, I didn't have the slightest idea what I was going to say.  My mind was working overtime to come up with a simple definition when one of the 4-year-olds piped in with: "Patience is waiting with a good attitude!"  Whoa. Give that kid a gold star. Since that time, I've adopted this phrase and brought it up on more than one occasion with my children. One day when we were on vacation, my son who was very excited about a trip to the ice cream store, hopped out of the car and started running across the busy parking lot towards the building! I was terrified. Once we caught up to him, I reminded him quite firmly (this means I was flipping out), "Patience is waiting with a good attitude". I added, "It's also making the right choice while you wait!"
3. You get what you get and you appreciate it.
Here's another gem I picked up and altered from my time with preschoolers. The original version is, "You get what you get and you don't throw a fit."  It's a great simple concept but I loved the idea of adding gratitude into the equation. A child won't always receive their favorite color of playdough or color sheet, especially in group settings, but they can still appreciate the opportunity they have to play with the item received.
4. Be a good helper but don't be afraid to ask for help.
My son started kindergarten this year. When we walked into the classroom on the first day, we were greeted with a smiling teacher and tearful children. The room echoed the cries of those sweet little children who had never had a school experience and the thought of mommy and daddy leaving them was terrifying. My son had been in a preschool environment and was very excited about school but the sounds of tearful children alarmed him. I saw his sweet blue eyes grow wide and I imagined all the fears that must be surfacing.  I knelt down and looked him in the eyes and told him about all his new friends who had not been in school before. I encouraged him to be a helper. He could be the friend a sad classmate needed! He could be the good listener his teacher needed while his friends adjusted. Then my mind raced to him. Was he afraid? I didn't want to ignore his own needs either, so I quickly added: "Don't be afraid to ask for help, okay? If you need something your teacher can help!" We have exchanged this simple phrase every day since. I start with, "Be a good helper," and he responds with, "But don't be afraid to ask for help."
5. Kindly thank me for what I did and remind me of what I forgot.
Have you ever brought a snack or coloring sheet or game to your child only to be met with absolute disgust or heartbreak over your kind gesture? My kids can flip out over the most random things. I recall once that I brought my son a cereal bar and he burst into tears saying, "I asked for peanut butter crackers!" It was an honest mistake and I had truly forgotten. Now there are definitely those instances when you "get what you get and you appreciate it, dog gone it"! Sometimes I just genuinely forget or misunderstand. In those moments, I am happy to swap out the treat or retrieve a different coloring book. It hurts, though, when my child responds in such a manner that implies they believe me to be ruining their world on purpose. After a few lectures that didn't seem to take, I came up with this phrase: "Kindly thank me for what I did and remind me of what I forgot." For example: "Thank you for bringing me applesauce but I would rather have a cereal bar." I think adults could learn a thing or two from this approach. I know I have.
6. Being excited is not an excuse to make a bad choice.
I have noticed a consistent pattern with my children. When there is something exciting on the horizon, their behavior tanks. If we plan to eat out, the process of getting them out the door takes 10 times as long and their listening skills regress substantially. "They are just excited," I would reason. Unfortunately, their behavior would frustrate me so much I began to question the value of the special outings at all. I wanted to scream, "Calm down. Behave!" Then I came up with this simple phrase: "Being excited is not an excuse to make a bad choice." It's a great reminder for them to slow their motors a tad. If I'm honest, it also reminds me that they are kids and they really are just excited. Their nervous jitters make perfect sense so I really ought to extend some grace and keep the reminders coming.
7. Use your head before you use your hands.
Instead of telling your child, in a huff no doubt, to think!!! "Why don't you think before you do things!?" Consider reminding them each time to use their head before they use their hands.  I often use this as a reasoning or reflection exercise. Did you use your head or your hands when you did "x,y,z"? I want them to think through their actions. I have an adult version of this one as well: "Use your head before you use your mouth (or your fingers to type).

Breaking It Down
I love words. That is probably why I love catchy phrases like the ones above. My kids will not always be kids. One day they'll be teens and in an instant, I will be staring at my adult children. Everything I teach them now can prepare them to be kind and loving adults. Some decent manners and social skills would be nice as well.
What I hope these phrases do is break down a hard saying into a simple do-able action. If you were in a foreign country learning a language you did not know, you would hope that the nationals to that country and native to the language would give you grace as you learn. You would hope to learn a few simple phrases as you build on your language skills and acclimate to the culture and language. Our sweet children have been born into a culture of language and manners and interactions that do not come naturally. Let's give them grace and offer them bite sized tips for being successful in their interactions.
Want a cheat sheet? Click on the blue button below to receive your own printable listing these 7 simple sayings. Put it on the fridge or a bulletin board as quick handy guide for you and your children!