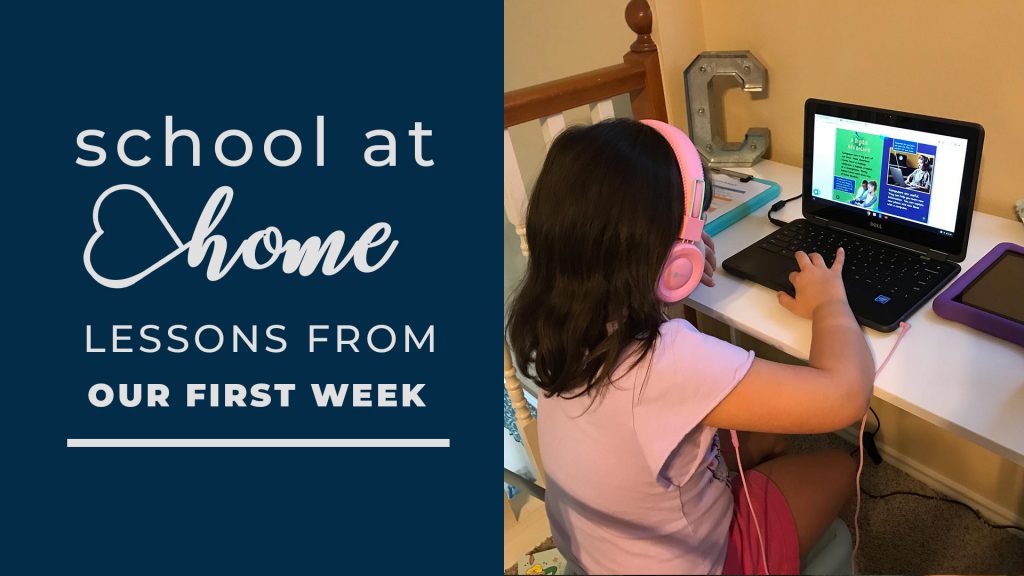 Our kids started school this past week. One in kindergarten, one in second grade, and one in fourth grade. They started their day in front of a screen at 7:40 am in our playroom converted into a schoolroom.
Although we did our best to prepare for a virtual environment, there is so much that you don't know that you don't know.
Below are 9 lessons we learned in our first week of School at Home.
You Don't Know What You Don't Know
Our daughter's second grade teacher began her 19th year of teaching this week and yet her experience is no match for the online environment in which we find ourselves.
If you are participating in a public School at Home environment, it is likely that your first day at school from home will be your teacher's first day of teaching School at Home.
Armed with this information, you can remind yourself that every question that comes up and every challenge you face could not possibly be anticipated.
We simply don't know what we don't know. We tried our our best to prepare— as did our entire school district. However, we didn't know for sure what to expect until we faced it. I may be biased but I believe our little elementary has one of the finest group of teachers and administrators.
And yet—we all experienced our first day TOGETHER.
As you prepare for your first day, remind yourself that there is no way to anticipate every possible scenario. So roll with what comes and remind yourself:
You don't know what you don't know . And that's okay!

common adage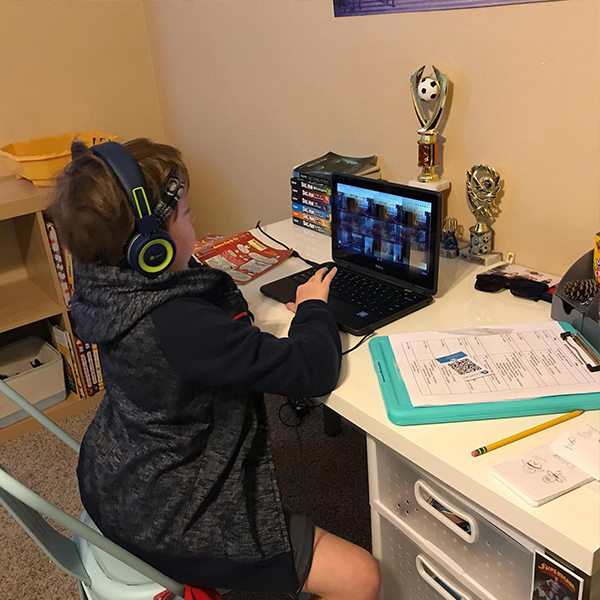 Grace for Days
There may be a unicorn classroom or school that experienced zero complications during those first few days of school. It's a possibility.
I haven't heard about it though. Every experience I've discussed with other parents has been filled with frustration and tears. So many tears.
Whether it's a tech glitch or a 5 year old who refuses to get on a meeting, there will be challenges. Give yourself grace. Smother your kids with grace. And those precious teachers behind the screens? So much grace.
On top of the tech challenges have been the scheduling challenges. One day, my daughter kept missing meetings. We would get busy with an assignment and all of a sudden we were late for specials or a google meeting.
My response at first was so much stress and anxiety! Then after the 50 millionth mention of GRACE by a friend, I finally gave myself some grace and my response changed to: "Ooops!" And we moved on.
I told my youngest on the first day of school: "This is hard. But we are strong."
Later in the day, I shared these words with my daughter and her response through tears was: "No we aren't. God is strong!" Yep. Charlee you are right.
My point? Admit this is hard. Because IT IS. So hard! But God is with us and He helps us do hard things. And gives us grace for days.
Resources Are There for a Reason
If the school offers a resource, take it. That could be tech help or a video tutorial. It could even be food.
Our district is providing lunch (and breakfast for the next day) from the school cafeteria. We have to pick them up daily but the relief of not having to figure out lunch and breakfast each school day has been such a huge win.
If your school offers to help in any way, this is NOT the time to think: I don't want to take away from someone who needs the help more.
No. Take the help. We all need it right now!
Walk Away
Sometimes you have to close the laptop and send the kids outside to play. Start again in 30 minutes. Start again the next day. There is no amount of education worth causing your child anxiety and stress.
Would school administrators agree with this? I don't know but I do know they want our kids healthy both physically and emotionally.
Walk away. Take a breath. Begin again.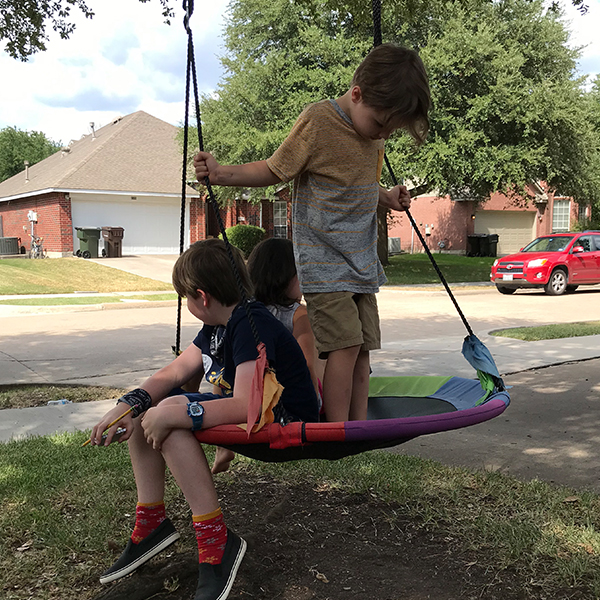 Pivot
I talk about this in our Quarantine Classroom Post. You may have a plan in place prior to day one and realize your plan doesn't work. Or you need to make some adjustments.
We realized quickly that the kids could not do Specials in the same space. Istead, they go down stairs to the dining room table for PE, Music and Art. They don't have to use their headphones which is so nice! They also have the room to move around and makes some noise.
As you progress from day to day, don't be afraid to adjust your space or your approach.
Ask for Help
My husband is working full time from home the next room over. He HAS to work.
However, we've got a Phone a Friend policy in place. If there's a tech issue I can't handle, I'm knocking on his door. If my youngest needs a wiggle break, my husband pushes him on the swing for a few minutes.
If you have other family members who can help, let them help. If no one else is home, maybe grandma can FaceTime with your kid when they are having a hard moment.
Maybe it's asking a neighbor or friend to do a Sonic run for you. You have people in your life who love you and care for your kids. Don't be afraid to ask for their help.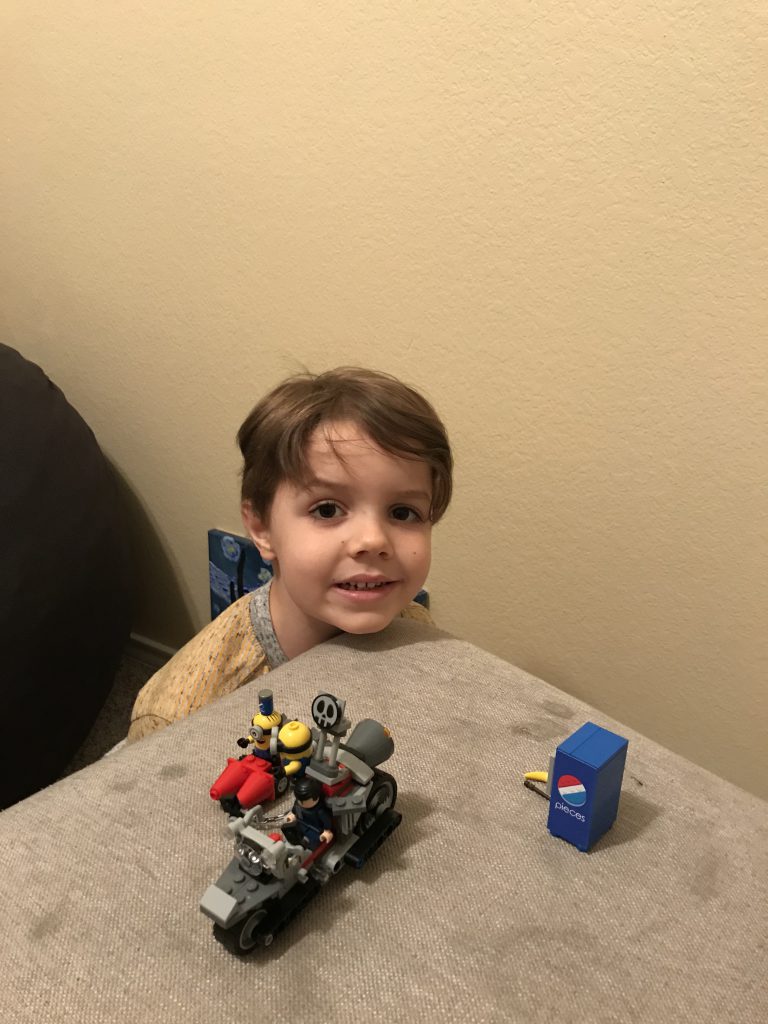 You have people in your life who love you and care for your kids. Don't be afraid to ask for their help.
Hi/Lo's
I am not a licensed counselor, but I think that those who are, would agree that this season brings with it emotional strain. Taking time to talk about the good AND the bad of each day is a great way to process all those little feelings.
Simply ask: "What was the best part of your school day?" Then "What was the worst part?" You can also ask specific questions like: "What was your favorite activity today? Did anything frustrate you today?"
Share YOUR frustrations as well. When you share age appropriate hi's and lo's, you give them permission to open up instead of holding it in.
When you share age appropriate hi's and lo's with your children you give them permission to do the same— to open up instead of holding it in.
Hacks are Life
I'm all about hacks and tricks that make School At Home run more smoothly. I polled my Facebook Friends and got some tips from their first week of school. May these be helpful to you prepare for (or continue) School at Home.
For younger kids, invest in treasure box goodies. If they are older, pay them to be responsible.
If you have multiple kids, invest in headphones.
Turn on the closed captioning in meetings. That way your student can keep their headphones on but you can track with what the teacher is saying.
Review your child's assignments regularly. Even if they are fairly competent on their own. Make sure they are hitting "submit" on those assignments!
Invest in center type activities, books, or art supplies for in-between calls and assignments. To make sure the activities don't lose their appeal, keep them for school times only.
Get to know the parents within your class. Form a GroupMe chat or facebook group to keep in touch during the day. That way if there's a question or a glitch you can reach out to determine whether it's a class-wide challenge or something wrong with your internet or device.
Speaking of internet challenges, remind your students (and yourself) that if their computer is lagging, that other students are likely experiencing the same. This will help reduce stress over feeling behind.
Find the best way to communicate with your teacher and do it often. When something works, let your teacher know. When something is not working, let your teacher know and mention any work-arounds you discover.
Clean up your space as soon as the day is over and walk away.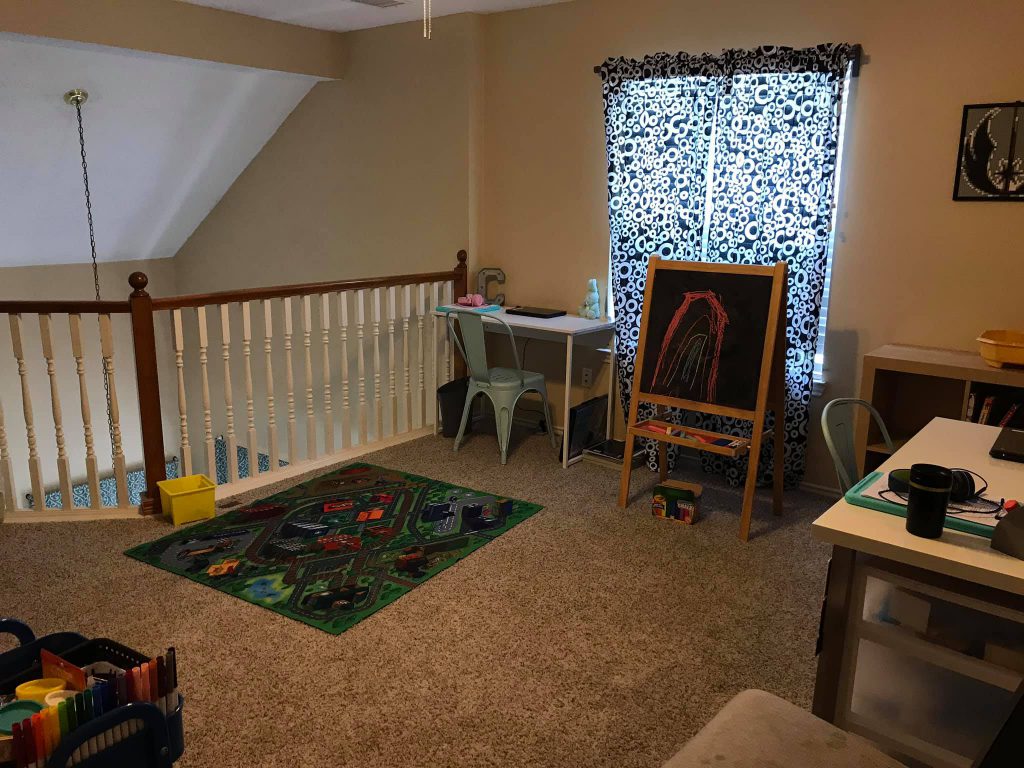 Let It Be
We are living in the most bizarre times and there is no handbook for how to handle it. We can only do our best and rest. In the words of an old liturgical prayer:
What is done is done. What is not done is not done. Let it be.

Liturgical Prayer