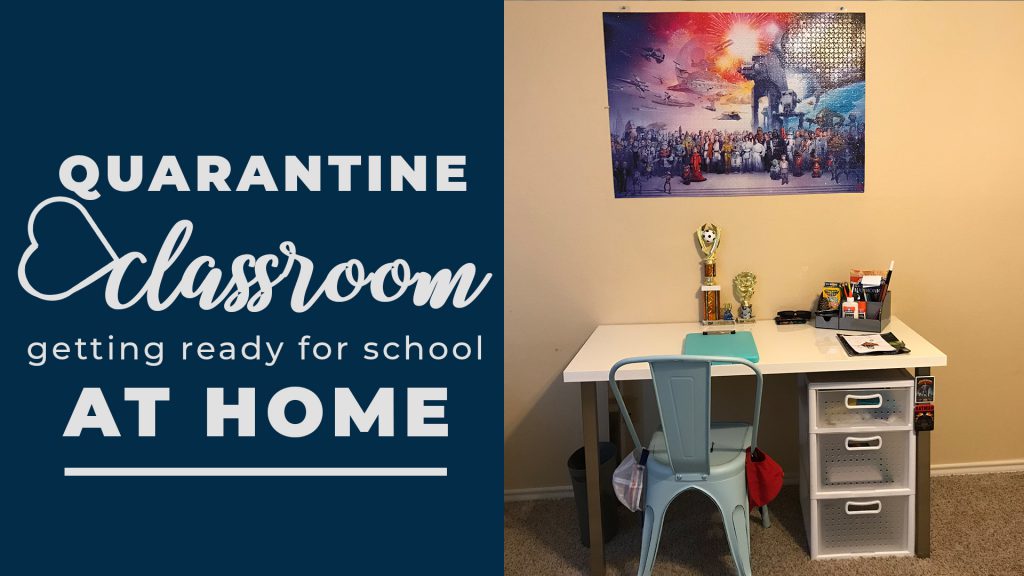 Next week starts a new adventure for the Parker family. Like many, we will begin our school year at home— in front of a screen. Not ideal but we are making lemonade out of lemons.
While considering our set up I polled my friends on facebook. They had some fantastic ideas and insight that I'd love to share with you.
Here are 5 tips to consider when preparing for an online learning environment.
Do What Works for Your Family Dynamic
When I reached out to friends for advice, I received a lot of wonderful ideas for building an actual classroom space. Other friends admitted their specialized homeschool room was used for storage. Some sat at the kitchen table while others created a designated space.
As I read through each comment and considered their method, I found a lot of grace and so many great ideas!
Here are few to consider:
The kitchen table with supplies on a shelf or storage crate/rolling cart
Couch with lap desk
Proper desk in designated space
Outdoors on pretty days for change of scenery
Long table with multiple work stations
All over the house depending on the type of learning
After considering each of these great ideas, I thought about our family dynamic and chose what I hope is the best arrangement. We've set up a space in the kids' playroom to make our learning a little more structured.
We chose to have the kids in one space because I want to be able to walk away from school at the end of the day. When the last child has signed off of his or her Chromebook, I want to put our supplies on the blue rolling cart, turn the light off, and walk away.
Your family may operate differently. Just as children have different learning needs, families will vary in their approach to school at home. As you consider the needs of your children, decide what would make your day the smoothest possible scenario.
Don't be afraid to Pivot
Until we experience our first day of school, we won't really know if all three children in one space will work. It's such a bizarre combination—schooling at home but following public school schedules and their designated curriculum. For the sake of my sanity, I really hope the shared space will work but if it doesn't, we'll need to adjust.
You may start with your child at the kitchen table and realize the sunlight creates a glare on your child's device. The couch may have seemed like a good idea initially but a desk is better suited for your student.
One friend mentioned that her kids start in a common space and then move to other spaces to complete their individual assignments.
No matter where you start, be prepared to make some adjustments along the way.
It's Doesn't Have to Be Expensive
It can be tempting to spend a ton of money on revamping your space to be class-room ready. Although there are legitimate expenses, resist the urge to buy out the furniture section of Amazon.
In the words of Myquillan Smith, go "shopping in your home" first. Even with three kids, we only had to purchase one desk, a rolling cart, and a few school supplies. For our eldest, we used an old Ikea table we had in storage. I tucked a 3-tier storage bin under one side of the table to create the feel of desk drawers. For our youngest, we repurposed the lego table to make an appropriately sized desk for him. Our daughter lucked out with a new but inexpensive desk off of Amazon and I purchased the rolling cart as storage for the kids extra supplies.
Make Your Space Multifunctional
Whether you're building a space for a few weeks at home or an entire year remote, you will have to repurpose your space to make it work.
But what if every space is taken?
If you're like me, you didn't go house shopping with an extra room— that one of these days would be helpful when a pandemic hits and we can't go to school in public for a while— on your list.
One friend tackled this in a clever way. They turned their guest room into their school space and placed a futon along one of the walls. It serves as a comfy space for studying but it also doubles as a bed when they have guests.
Don't Let Perfect Be the Enemy of Good
I am thankful for these words of wisdom from a mom who homeschooled all three of her children who are now in college. Don't look for perfect, look for what works. The ideas on Pinterest could make your head spin. And social media can be just as bad. I can already see the trend of back to school pictures morphing to back to school spaces. And I may have started it!
Don't Let Perfect Be the Enemy of Good
This year will be like none other.
As you prepare your space remember:
it needs to work for your family.
you may need to adjust if your space isn't working
it doesn't have to be expensive
multifunctional is king
Pinterest-fancy is not the goal
Check out these pictures from my mom-friends who are creating spaces that work their families.
Your space needs to serve your kids and their educational needs. Nothing more. You've got this momma!
What are you doing to get ready for virtual learning this year? Are you remote for the first few weeks or the entire year? I'd love to hear from you in the comments below!