I am so thankful for the women, both near and far, God has placed in my path that are mothers.  Such wisdom oozes from those who have braved motherhood. Heeding their advice is so paramount. This is the first installment of  Wisdom Chronicles; an interview series with women I respect. They are mothers of children who are adults (or nearly there) and they have wisdom and experiences to share that are truly valuable.
In the coming months I'll introduce you to some incredible women and their stories. It is my hope that you will find common ground, encouragement, and a few ideas to use with your own children.

Meet Gail
Meet Gail Harlin. She's a mother of two and a grandmother of four! I recently had the opportunity to have lunch with Gail and asked her a few questions.
Raising Littles
Patty: When did you become a mom? Were there any unique circumstances?
Gail: Age 26. We were happily married and Amelia came a year earlier than I expected as I was finishing up my Master's degree as a child nurse specialist. She gave me the idea for my thesis: Working Women and Breastfeeding- How they succeed
Patty: Can you tell us a little about your children.
Gail: Amelia  is 33 and she is as industrious as her name says. She's compassionate and a great mother to her 4 children. Gregory is 30 and my "watchful" one. He used to find all kinds of treasures and is very tender to me, little children and pets.
Patty: What was your favorite part of raising littles?
Gail: I loved their wonder and curiosity, especially as I talked to them about God's creation while on walks and gardening.
Patty: What was the hardest part of raising littles?
Gail: Wondering if I was doing well, since I did not have good role models or mentors from my family in those early years. God provided, through Bible Study Fellowship, godly women and home school moms to fill the gap.
Raising Teens
Patty: What was the hardest part of raising teens?
Gail: Their insecurities. I prayed as much then, if not more than, when they were little.
Patty: What did you love about raising teens?
Gail: That they enjoyed being with us. Doing trips and vacations. Also their friends.  We began hosting church groups, missionaries, pastors in our home, so especially as teens they were exposed to how God was working, learned hospitality and saw every tongue, tribe and nation in God's kingdom.
Looking Back
Patty: Your children are adults now. What was your favorite season for raising your children.?
Gail: Preschool through grade school. We home-schooled so it flavored the seasons.
Patty: What do you love about the parenting season you find yourself in now?
Gail: That my kids talk to me and ask for advice and prayer regularly.
Patty: What is the hardest part about the parenting season you find yourself in now?
Gail: They are adults now. So listening more and only offering advice when asked. Well, for the most part. Ha ha.
Patty: What was your favorite vacation?
Gail: Two cross country trips to see family and visit historic sights. They were both 3-4 weeks long! We also had many planned and spontaneous trips. Because my husband, Dan, had comp time and since we home-schooled, we had the flexibility. I highly suggest families look for opportunities to see and experience living books that they have read.  For example visiting the setting for Little House!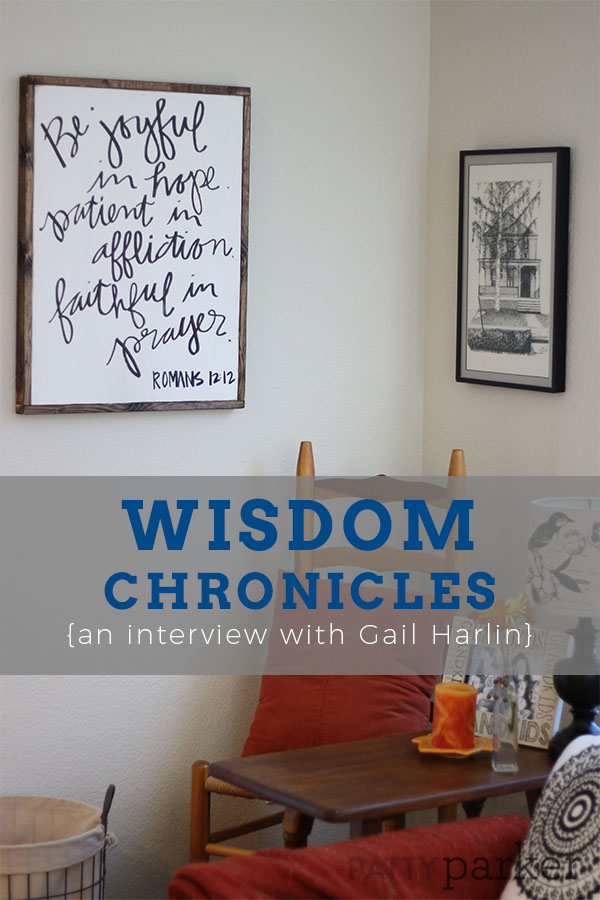 Marriage and Work
Patty: What advice would you give to keep your marriage strong while raising kids especially during the high maintenance years?
Gail: Take time to talk, have regular dates,  and pray together.
Patty: While raising children, did you stay at home or work?
Gail: Mostly at home. I did work part time some. It was very flexible with a nursing background.

Final Thoughts and Advice
Patty: What makes a home?
Gail: The people and the Lord as the center of it- a place where everyone feels welcome.
Patty: What is your biggest hope for your children?
Gail: That they will love and serve God and others
Patty: What is one piece of advice that you would like to pass onto moms?
Gail: Pray! Pray! Pray!
Patty: How did motherhood change you?
Gail: Fulfilled what I always wanted to do. It also brought healing from rough times in my childhood. I'm still a work in progress!
Patty: Now a very serious question. Milk or Dark Chocolate?
Gail: Dark!!
Patty: Anything else you would like to pass onto my readers?
Gail: Mothering is a high calling and God's grace is the key! Always go back to prayer. See God in the " little things"  and use everyday occurrences to teach about him- through His nature,. Recognize the opportunities to pray and see Him answer those prayers.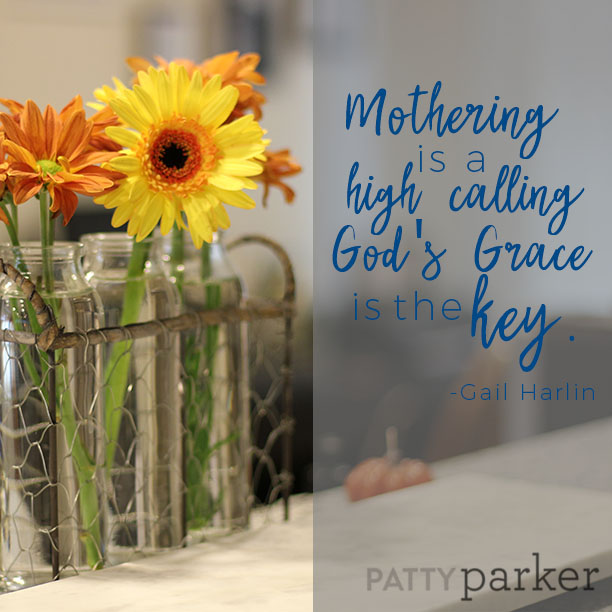 I wish you could meet Gail in person. She is truly precious and kind and a great mother and grandmother. Praying her story and words of experience and wisdom have encouraged you.
---
If you joined us for our Instagram Live, you're probably wondering about Gail's 2 truths and a lie. Well Gail does have a titanium screw in her foot and she was adopted. Although she lived in California she was not born there! If you'd like to keep up with adventures I share on Instagram, you can follow me here!