Dear Kitchen Floors
I speak this in love
Please know this tough
but there's a matter quite urgent
we need to discuss
You see…
I sweep you
I mop you
I scrub all the stains
I dust up all the crumbs
And do I complain?
Yet…
I find footprints and food smudges
And evidence of ink
All before the mop water
Has emptied the sink!
I dust bust and sweep up
And spot mop and sigh
And vent to my friends
Who share to my surprise
That they too
Struggle with kitchen floors
That stay clean for a second
And sadly no more
Imagine my surprise
To learn the reason you are white
is because "duh!"
it helps reflect the light
Despite your fashion forward sensibility
I'd rather return to days when ignorance ran free
When tan tile hid all the dirt and the grime
What I don't know cannot hurt me
It's truly sublime
And what's with those checked patterns
Are you black or are you white?
And I've heard of tile with swirly patterns
That must be quite a fright!
Not so fast lovely hardwoods
You don't slip by without consequence
I hear from my fur baby owners
That you, too, leave evidence
Kitchen floors, we revolt
We protest, we resign
Cleaning kitchen floors
Is not our desired past time
So we toss up our cheerios
We turn our heads from the spills
We choose to spend our energy
On much better thrills
Like our kiddos and game nights
And Netflix and friends
Sure we'll sweep you and mop you
But our timing?
Meh. Just depends
Don't miss us too much
We'll travel your way
Snacks from the kitchen are required
So don't be dismayed
Your floor space shall gleam again
We promise it will
And we'll wince but for a moment
At that first imminent spill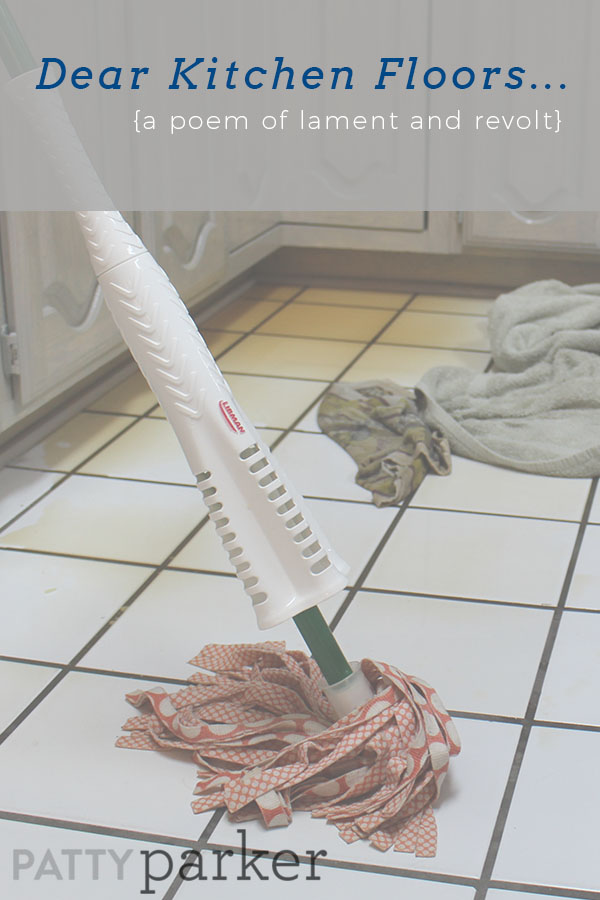 I hope you enjoyed this poem. I'd love to put a copy in your hands for free! Mine is hanging prominently in my kitchen for all to see.
---
I am so honored you visited today! I'd love for you to check out the rest of my site for encouragement on your parenting journey. You are not alone. Welcome to the Me Too! Community.