Love Lives Here:
3 Reasons It's Worth the Read
Love Lives Here, written by Maria Goff, is a book that I foresee pulling off my bookshelf often. It has left me inspired and moved me to action. Here are three reasons Love Lives Here is worth the read.
Love Lives Here Reminds Us He is With Us
We all do it. We look at other people and see their beautiful lives, their green grassy pastures, and assume that all is well on their side of the fence. Love Lives Here reminds us we all experience pain but we are not alone. God is with us in times of celebration and in our most gut-wrenching seasons as well. Maria shares stories of beauty and ashes. In every encounter, good or bad, the anchor is Jesus. She reminds us it's how we respond to hard times that makes all the difference. She says. "We often find our safest and most beautiful places where the lava once flowed."
Difficulties make us stronger especially when our faith is secure in Christ. He is always with us and making beauty out of every circumstance. She says, "The same power that dug Jesus out of a cave can unearth beautiful things in our lives, too. God takes what was once dead, buried, and hidden, and pulls it into the light, dusts it off, and restores every bright and beautiful surface."
We often find our safest and most beautiful places where the lava once flowed.

– Maria Goff
Love Lives Here Puts Feet to Our Good Intentions
Love has a very fluid definition these days but to borrow a lyric from my teenage years: "Love is a verb". I am reminded through Love Lives Here that I can make a difference for God right in my own backyard, in my neighborhood, and with those closest to me. There's one challenge though. Maria reminds us that in order to truly love our neighbors as Christ commands, we need to know them first. She reminds us that hospitality is not about fancy china and entertainment.  She says, "inviting people into our lives doesn't start with worry and stress. It starts with a desire for connection…" In her book, she shares about spending a few moments with a dying neighbor. When I read this story, it caused me to pause and ask, "Do I know my neighbors well enough to even know if someone is sick or out of town?"
This book has left me challenged to spend more time focusing on those right in front of me. And whether that comes in the form of an ice cream social on the lawn or a knock on the door with dinner for a grieving neighbor or keeping a close eye on a neighbor's home while she is out of town, it's making a difference because to love like this I must know my neighbor. My good intentions are gaining feet that cross the street.
Love Lives Here Points Us to the Bottom Line
It's easy to look at what the world says I need to be happy and successful and find myself lacking but there is so much good and wonder that I can experience and help others experience if I just open my eyes. Love Lives Here helps me see that the romantic notions I have for living a life of whimsy is not only possible but right in front of me. It may, however, look a little different than I originally thought.
A life well lived comes in common packages. It's in my children's delight and in morning coffee dates with my husband. I find it in loving my neighbors by first building friendships with those neighbors. Even when I struggle to know Jesus and to authentically love as He loves, I can experience this wondrous delight called living with a purpose. Maria reminds me that this life of grandeur I long for can be found in my very own backyard.

Final Thoughts on Love Lives Here
I'm a mom of three beautiful children. I have an amazing husband who works hard to provide for our family. As a result, I am able to stay home with the kids. Unfortunately, staying at home can often feel less than exhilarating. There's only so much whimsy you can muster up while changing diapers, mopping floors, and teaching manners. But Maria, through her beautiful book filled with stories and gentle lessons, has taught me that "the balloon is not more important than the string." I find myself relishing in reading books to my children and listening more carefully to their questions. I find myself slow to close the garage door just in case a neighbor walks by. And I'm trying to really see my friends. Because in the words of  Sweet Maria, "Love doesn't need a building and it never has- it just needs us."
---
Should You Buy The Book?
I love the beautiful stories woven throughout this book. Whether she was sharing her side of the Goff romance story or speaking of her childhood memories or her encounters with Christ, Maria took simple reflections and turned them into stunning life lessons.
I'm a voracious reader but not often if ever do I read a book cover to cover. I did, however, for this book. You see, it is one thing to talk about love. It's a whole 'nother thing to consistently demonstrate that love. Her husband, author of Love Does, wrote the forward and the words of her three grown children are found within the pages of the epilogue. These words, written by those who love her dearly and have been profoundly impacted by her life, more than validate her words found between chapters 1 and 19. They are her true magnum opus (great work). Love Lives Here is a must read!
I'll leave you with this final quote and I challenge you to do it.
Draw a one-hundred foot circle around you and go love everybody inside it.

– Maria Goff
---
THE FINE PRINT
I received an advanced readers copy of this book but the opinions expressed are mine. I love this book so much I'm buying a copy for one of my readers!
This contest is CLOSED! A winner will be announced on Monday April 3rd!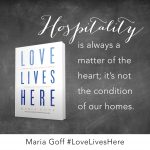 ---
And the Winner is….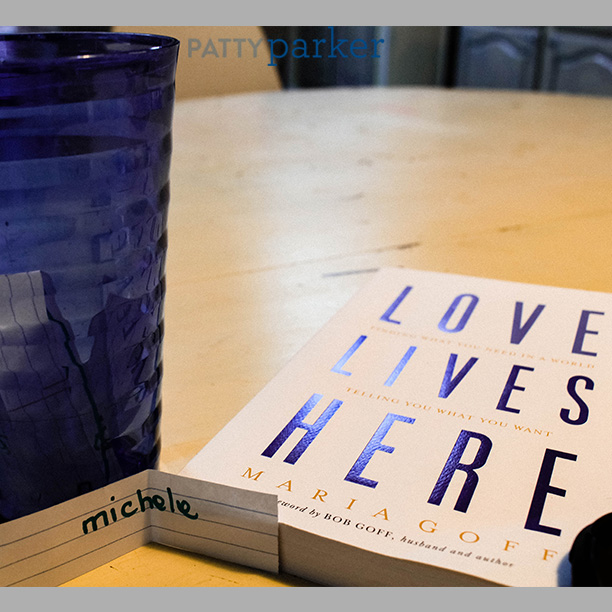 Congratulations Michele! Be on the lookout for an email from me with details on your book's arrival!
If you didn't win, don't be sad! You can still get the book here and make a difference in the lives of many children. For every copy of Love Lives Here that is purchased, a book will be donated to fill a library in Gulu, Uganda. Check out those details here! At last count there were 15,000 books donated!
---
Want more? You can check out all my book reviews here!