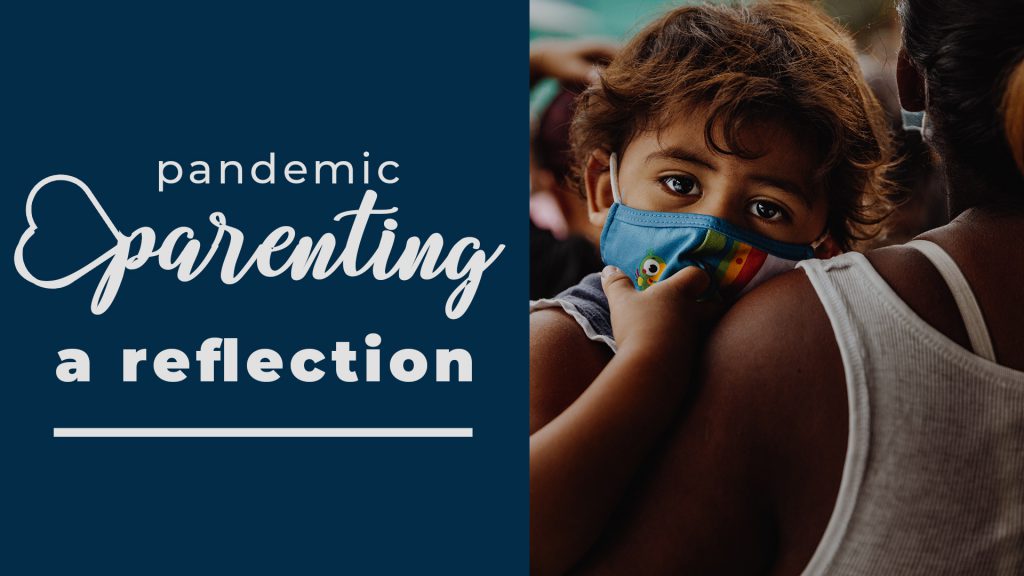 Helping Our Kids Process the Pandemic
When the world shut down, I took to heart the mandate to shelter at home. Given a promise of two weeks to flatten the curve, my husband and I worked hard to make life manageable and even joyful for our children. In those two weeks at home, we Zoomed, and Facetimed and we filled our mantel with art projects inspired by YouTube tutorials. We joined our church family, online, to worship through a screen. We even created color-coded charts and schedules and assured our kids—and ourselves—that the situation would not last. "This is not our new normal," I announced almost daily, "just an in-between." Nearly two years later, masking, Covid-testing, and variants abound.
New, Not New
I struggled to make sense of a word-wide pandemic. Surely no one else knows the ills of quarantine and isolation. History proved me wrong. In 1918, the Spanish Flu covered the globe leaving 675,000 dead in America alone. City health officials faced similar quandaries to our own. They considered closing schools and banning public gatherings. They even used masks.[1] In the 1940s polio outbreaks changed the day-to-day life of families. Parents feared letting their children play outside.[2] Again and again, my research reported eerily similar circumstances to our own. But despite the historical evidence of one global medical crisis after another, I still questioned how I could help my children process the aftermath of our own medical crisis. Overtime, however, strategies emerged.
Tips for Pandemic Parenting
Foster safety through consistency.
The pandemic might alter our plans but fighting for consistency fosters a safety our children will take note of well into adulthood. Pre-pandemic, our schedule had rhythms we counted on. We played outside, knew our neighbors, and regularly filled our home with guests. We hosted movie nights, themed get-togethers, and even bible studies. Our children knew we valued friendship and hospitality. Then isolation halted our plans. "I miss our neighbors," I whispered as I pulled into our garage one day. This quiet confession inspired a group text to our neighbors. I asked, "Who wants a neighborhood hot chocolate party?" With each ping of a text notification, my heart swelled. "We need this," I thought. If we value friendship and hospitality, then we need to practice friendship and hospitality no matter the challenges we face. Consider what values are important to your family. Do you still practice them? Begin again. Set out the clothes for church. Relaunch the neighborhood supper club. Dust off the bikes and go for a ride. Life presents us with challenges and hiccups, but we can maintain our values no matter what.
Life presents us with challenges and hiccups, but we can maintain our values no matter what.
Admit that life feels "unfair", "hard", and "difficult" even for you.
C.S. Lewis describes the beginning of friendship as the discovery of "What? You too? I thought I was the only one." As in friendship, our kids also need to know they are not the only ones feeling disappointment and frustration. Adults have coping mechanisms for handling disappointment. We also have the emotional intelligence to handle our emotions appropriately. However, we still feel them. My six-year-old needs to know he can feel disappointment. I can free him to feel the feels, by looking him in the eyes and saying, "This isn't fair, bud. I'm sad and mad and disappointed, too." This honest display of controlled emotions gives our children permission to articulate their own feelings. Reading a book about disappointment or viewing a movie like Inside Out can create an environment for talking about our feelings as well. Whether planned or more organic, our children need permission and the tools to process what they've experienced.
Pay attention to what your children need.
Even as the danger of the pandemic slowly dissipates, the effects on our children linger. We need to pay attention and respond. Recently, my oldest came to me and said, "Mommy I haven't had a hug all day." Since that time, I hug him often. I even use his language. "Hey bud, I haven't had a hug from you today!" Creating outlets for conversation can be helpful as well. Car rides work as safe places to talk about our feelings without the pressure of eye contact. Passing a journal back and forth with a more thoughtful child provides a buffer between honest questions and the answers he seeks. My daughter verbally processes her feelings. At bedtime, she needs to tell me about her day while I hold her and listen. Your child may need the outdoors. A walk around the neighborhood or throwing a football in the backyard can assist in processing the big emotions swirling around inside him. Children are remarkable. Their resilience in difficult situations can cause us to assume COVID hasn't affected them but it has. Consider how you can help your child process the effects of the pandemic.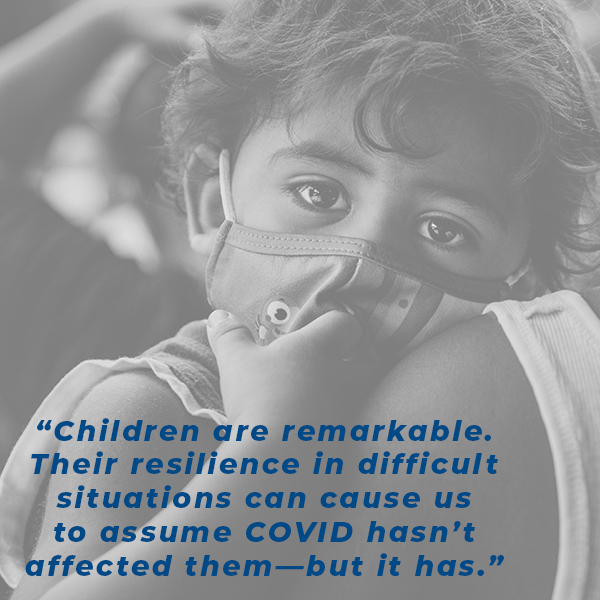 Lean into Your Faith
Parenting in, through and beyond a pandemic has caused me to feel out of place. I planned for terrible two's and first loves, but I can't seem to find the chapter in the parenting handbook on 'pandemic parenting'. First Peter reminds believers, who also felt out of place, to "Cast all your anxiety on him because he cares for you" (1 Peter 5:7, NIV). Just as we help our kids walk through the pendulum swings of their emotions, we can do the same with God—confessing our disappointment and confusion over the challenges of the past year and a half. He has also given us his presence through people. Paul instructs the believers in Galatia to "Carry each other's burdens, and in this way you will fulfill the law of Christ," (Galatians 6:2). Share your struggles with others. Keep attending church, whether in person or online. When we lean into our faith, our kids learn to do the same.
Another Look at History
Paul spent the greater part of his ministry in prison. In his efforts to spread the gospel, he experienced beatings, opposition and imprisonment. Our children may not experience prison or physical abuse, but COVID-19 has changed their normal. In his lecture, "Learning in War Time", C.S. Lewis questions the legitimacy of a normal life. He says, "Even those periods which we think most tranquil, like the nineteenth century, turn out, on closer inspection, to be full of cries, alarms, difficulties, emergencies." Though "normal" times proves a myth, we can rely on Christ to strengthen us, and give us hope and teach our children to do the same. Historically, God's steadfast presence had carried his people through wars, world-wide flus, polio outbreaks, natural disasters and senseless crimes. We can trust that God's presence carries us today as well; guiding us as we nurture and care for our children through and beyond a global pandemic.
---
[1] https://www.history.com/news/spanish-flu-pandemic-response-cities