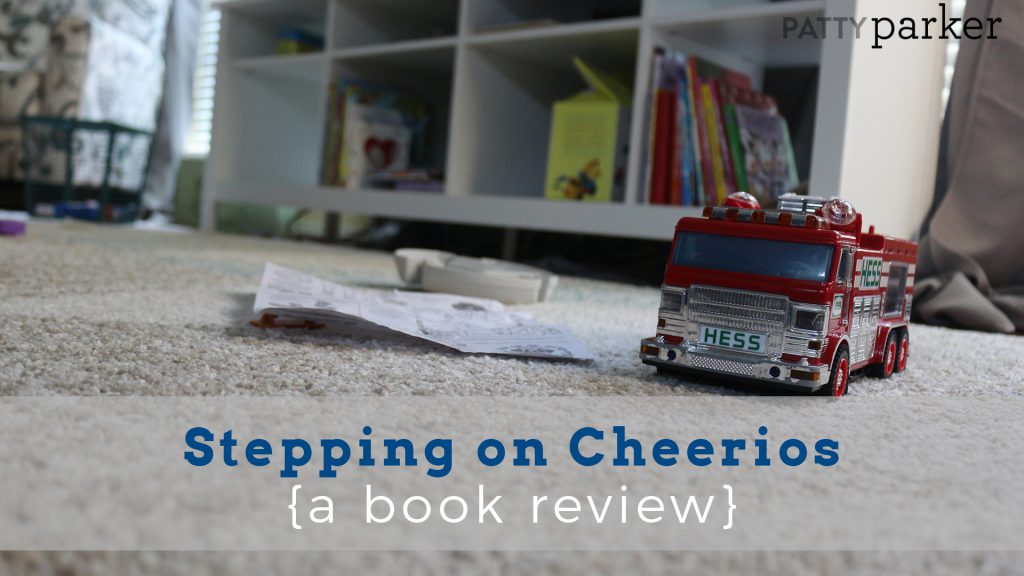 Betsy is the mother of four boys. If that doesn't get her a respect medal, three of the four boys are triplets! Betsy always wanted to be a mom but was both immeasurably blessed and surprised by motherhood. She shares stories of her own experiences and struggles and I found myself right at home in her stories. Here are:
Four Reasons I loved Stepping on Cheerios
 1. I could relate to her stories
Whether it was stepping on Legos, the challenges of shopping with "littles", or being okay with a messy house, Betsy covers so many experiences that I, too, have encountered or have no doubt I will experience as my kids age. When I sit down with my friends and we swap stories of our triumphs and parent fails, there's a sense of solidarity and
"I'm not alone"
that takes place. Betsy's experiences, and her way with words,  oozes with solidarity.
2. She made me laugh
Humor in the written word is not easily accomplished. When you are across the table from someone, there's voice inflection and facial expressions that all add to your response of: "This is funny." The author has a way of bringing you into her circumstances immediately and her words caused me to laugh, yes often, out loud.
"Too bad there's no fitbit to measure extreme mom endurance or how many daily calories we're burning from sheer physical child management and it's related stress."
She also used the hashtag #bestmessiahever
I think I'd love to hang with this lady and her crazy crew.
3. She pointed me to Christ
Over and over her shared experiences have a Biblical implication. She says, "Parenting is not paint by numbers and neither is our faith and trust in God to walk with us when we are uncertain."
 "We grown ups sometimes forget how much childhood matters. It's filled with the sacred and the "not to be missed" when it comes again in parenthood. And parenthood is the inescapable time of spiritual formation in which we don't realize until much later that everything kid drenched around us is a gift."
4. Stepping on Cheerios challenged my motherhood
As she reminisces on all the help she received with her babies, she says, "Looking back I had the kind of experience most women used to have when they gave birth at home. Other women living nearby came in to help the new mother in the week's after, aiding her to be able to return to her normal activities. Back then, one of the main tasks women offered to the neighbor who'd given birth was to prepare and serve food. Today's casseroles sent to new parents are the downsized version, the leftovers of a tradition that once brought people together, face to face."
This paragraph especially resonated with me. I've been the one hoping for more help that never came. I've also been the one who could have offered more help but instead considered my act of the doorstep "food drop" enough. I'm going to change this. Moms need more than a text message, although that is encouraging; mothers need physical help and our presence as well.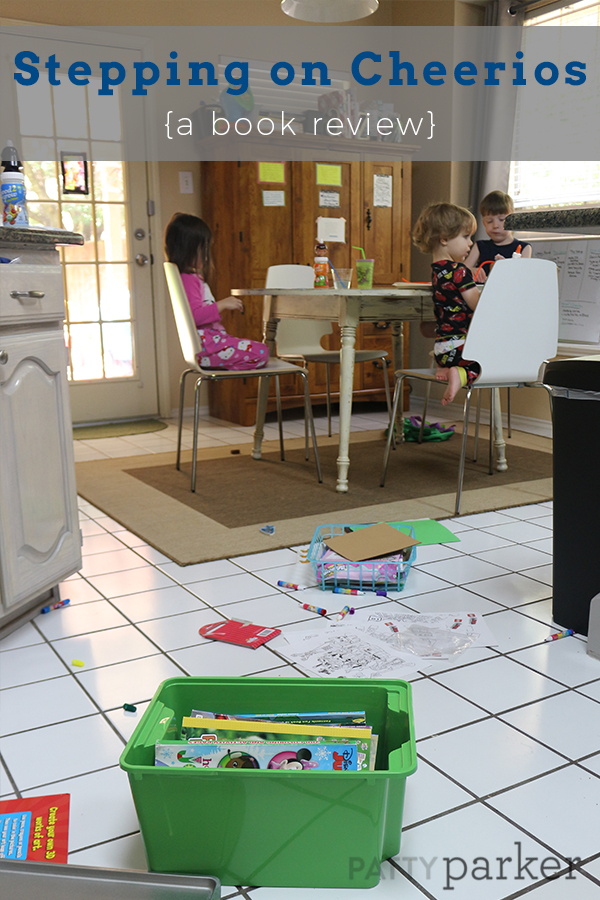 My Final Thoughts
Stepping on Cheerios
was the perfect combination of gut-level honesty, humor, and reminders to see God in the chaos and clutter of life. Today alone, the chaos level seemed through the roof. The kids, however, were having a great time. Thanks to Betsy's gentle and humorous reminders , I'm going to step over the cheerios and  the coloring books and the un-capped markers and  the sticky hands and faces and the manic tears. I'm going to enjoy
my rowdy bunch
and thank the Lord for the growth taking place in me and them. And maybe take a nap! This book is an easy read and definitely belongs in the Me Too! Community
library
. You can find it 
here
! In addition you can check out more reviews of this fabulous book
here
!
---
Want more? You can check out all my book reviews here!