Walk It Out is a excellent book about using the the directions in the Bible to walk out your faith every single day. If you are looking for a book shows that living out God's word is possible, this book is for you.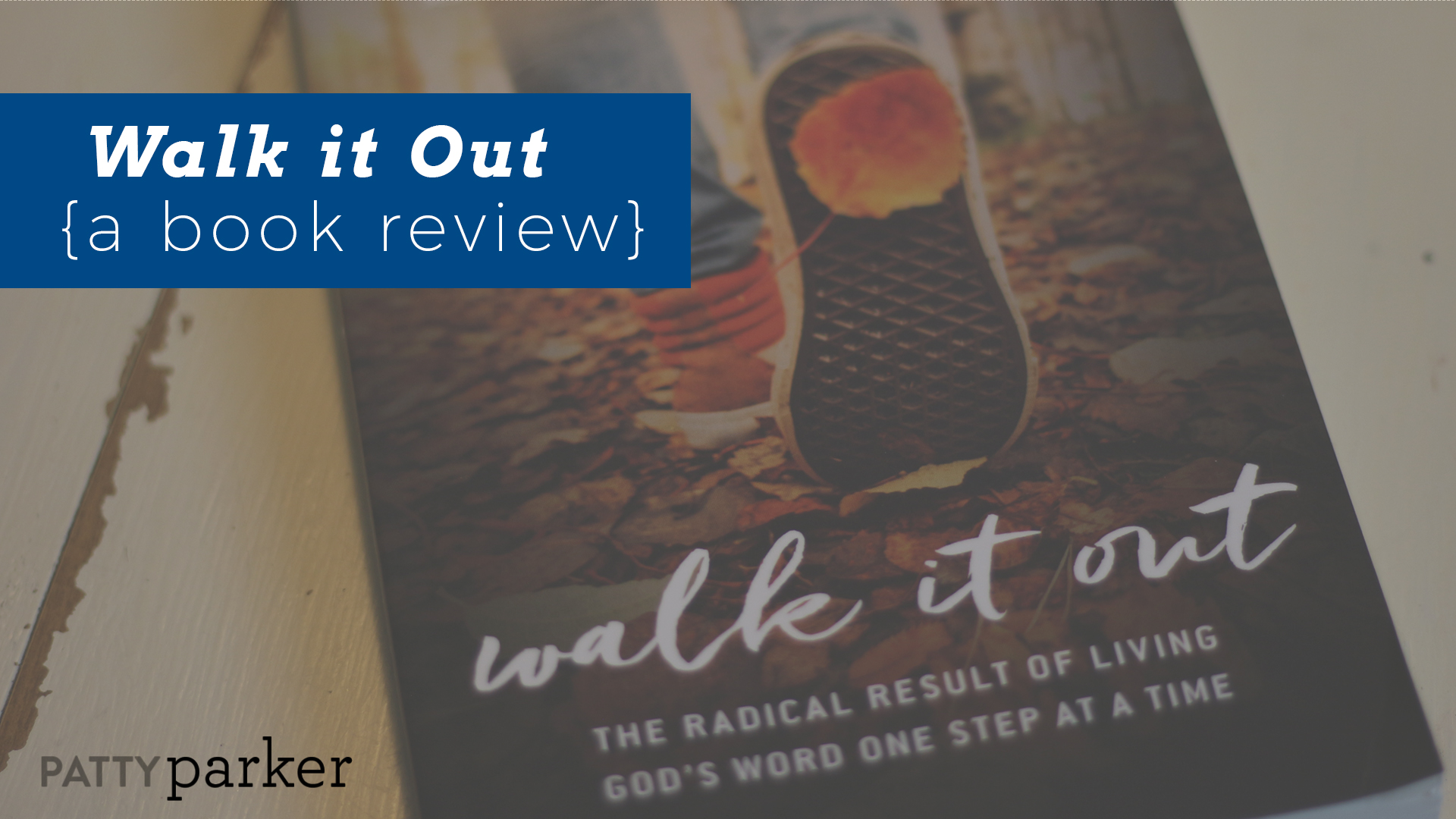 Recently, I attended a communications conference called Declare. It was there that I heard Tricia Goyer speak for the first time. She was invited to give a quick 10 minute elevator speech for her new book called Walk it Out, but as she spoke, I was drawn to the stories she shared about God's faithfulness when they decided to take God at His Word and live out the instructions found in the Bible. Those experiences inspired the book that she gave to every attendee. And that's why I'm sharing it with you today.
The Details
Walk It Out is broken up into 11 chapters. Each chapter covers another concept or command found in the Bible. For example, Chapter 6 is entitled All the World  and Tricia shares her experiences with mission work and how not only her obedience but, the obedience of others including that of her daughter made the way for more people to meet Jesus. I won't spoil it for you but it's a powerful example of how our story overlaps with others. I will, however, share this beautiful quote with you that sums up this chapter.
"Sometimes God asks us to go around the world to share the gospel. Sometimes He sends the world to us. Sometimes He asks us to go down the street. And sometimes He wants our steps to set the foundations for someone coming behind us, following our footsteps, and then venturing out on her own. Someone with beautiful feet, bringing the good news of Christ with every step she takes."
At the end of each chapter is a list of reflections questions and action steps. I'm not a fan of reflection questions. Maybe I should be but I love action step ideas. These are great. In the chapter entitled Family Matters, one of the actions steps says: "Write a note to your husband, your children, or a meaningful person in your life, sharing how much they mean to you. Also share your dreams of how God can use you together".
The Bottom Line
I loved every page. I was inspired by how this family has taken God at His word and chosen to live it out in daily life. In James 3:17, it says "Religion that God our Father accepts as pure and faultless is this: to look after orphans and widows in their distress and to keep oneself from being polluted by the world". The Goyers have put this into practice by taking care of Tricia's grandmother in their home for over a decade. They have also fostered and adopted 7 children. That definitely looks like walking out God's word to me.
"God intended for you to do what the Bible says; take the gospel into all the world, adopt the orphan, and care for the needy". – Tricia Goyer
Tricia and her family do more than walk out the words of this James passage. Goyer shares story after story about how they have made God's word their standard of living. Creating White Space and Crafting Purpose is just one chapter that truly rocked my world.
A "Me Too!" Kind of Book
I really identified with this chapter as Tricia opens with her inability to sit still. Every mom reading this post can relate. I mean, as a mom how can you sit still? Between keeping everyone fed and bathed and keeping the house clean and taking care of school projects and coordinating play dates, and volunteering, how can your carve out time to be still? She goes a little deeper when she shares that busyness can often crowd out the most important things.
As she shared about how busy her schedule had become I couldn't help but think "me too" over and over again. Her amazing husband helped her reduce the clutter of her schedule encouraging her to remove all the things she was doing out of perceived obligation or pride. Then they did something that I think it truly brilliant.
Taking us back to Genesis she reminds us that the first three days of creation were spent forming the earth and the next three days were spent filling the earth with birds and fish and animals and people. God formed the earth BEFORE he filled it. If we take our cue from God's word, shouldn't we do the same. Shouldn't we form our days before we fill them with a flurry of activity.
"The problem comes when we fill our weekly and monthly schedules before we build a structure for them." – Tricia Goyer
She goes onto share her family's priorities, those formative values that they want to make sure represent their family and where they spend their time.
Walk It Out Means Walk It Out
As I read their values, I realized that what our family  "said" we valued was often railroaded by our over-packed, mis-prioritized schedule. For example, passing our faith onto our children is our biggest priority. We talk about it all the time and say we do our best to put this priority into practice. Every Sunday our eldest son comes home with a God Time Card. It has 4 days of devotions that take less than 5 minutes to work through. It even has some pretty sweet ideas for growing our faith. So easy, peasy. And yet…this value that we have said, with our mouth, was so important was being glossed over, by our actions. Moving from activity to activity, we would get to the end of the day and realize that it was too late and we had not done the God time card. We were filling our days before we were forming them.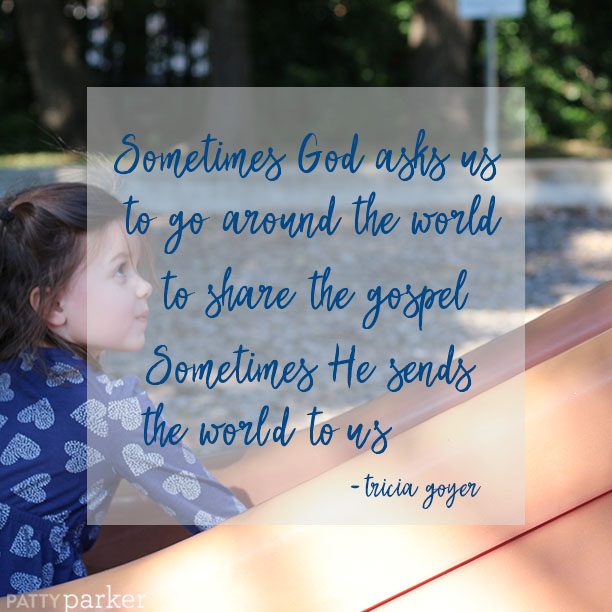 It's been a few months since I read this book,  and Marshall and I continue to figure out how we can make sure that we are forming our days with the things that truly matter to us in order to fill them with the right activities. One thing we are trying is forming our days in such a way that we have time to eat dinner. This gives us time to talk at the table instead of rushing to the next thing. We can take time at the dinner table to talk through the God time card with the entire family because this rhythm is fairly established. We're not perfect but when we get it right it feels so good. Church and surrounding ourselves with people who have strong faith is another value we've formed so we fill our Sundays at church and commit to our LifeGroup on Tuesday nights.
"We can walk out Scriptures' mandates only if we make room for God to work in our hearts and lives."- Tricia Goyer
Who is this book for?
If you are looking to grow your faith, this book will do it. If you are exploring your faith, this book is for you as well. Goyer shares story after story of how they've walked out their faith and seen God do the amazing. Their lives are not easy, the author is quick point that out, but this book is a great example of how a life lived for Christ is indeed the greatest adventure.
I highly recommend this book! You can find Walk It Out here. 
---
Want more? You can check out all my book reviews, including The Action Storybook Bible in my library.