How do we help our children grow in their relationship with Jesus? Here are 5 ways we can help our children create faith rhythms.

The Most Important Rhythm
I love this time of year! The lazy days of summer have morphed into clothes shopping, haircuts, and hoping the kids don't outgrow their new shoes before the first day of school! Although my kids would disagree, I truly love the rhythm and consistency that comes with the beginning of a new school year.
One rhythm that I feel is so valuable is the faith rhythm. Most would agree that creating a rhythm in which our faith  is cultivated daily is important but how do we make it happen? How do I help my child grow their relationship with Jesus? How do I make sure I don't coast spiritually? Here are 5 ways you can keep Christ a central and integral part of your family's faith rhythms this fall.
Faith Rhythm #1: Morning devotions
Stick a devotional or children's Bible on the breakfast nook. As you eat cereal or toast or donuts, read a page out of the book and pull a verse or statement from it. Make a point to come back to it throughout the day. For example, if the devotional referenced kindness, praise your children for their acts of kindness. If they are struggling, gently remind them of the devotional and encourage them to be kind. If your children are in school, pray for them asking God to give them opportunities to be kind. When they arrive home, ask them about their experience at school. Let them know you were praying for them. Celebrate their acts of kindness and encourage them when they confide in you that they messed up.
Faith Rhythm #2: Engage in a generosity project.
Perhaps you'd like to commit to serve as a family at a soup kitchen or food pantry. Christmas is coming. Start planning to buy gifts for a family in need. Pick a cause that means something to your family and commit to do something special as a family. As you serve, remind your children that God has provided for all your needs and that God can use your family to bless others. You can check out this blog post about fundraising for ideas on how to save money for your generosity project!
Faith Rhythm #3: Impromptu neighbor love
Find ways to love your neighbors well. You can bake cookies or draw pictures to share. You can bring the mailman lemonade. The ways to love our neighbors are as different and numerous as the houses in our neighborhood! I love the book Listen, Love, Repeat by Karen Ehman. The author gives great practical advice for showing love especially to our neighbors.
Faith Rhythm #4: Go through a kid-friendly Bible Study.
Right Now Media has great video studies you can do with your children no matter their age. She Reads Truth has a pretty amazing Bible Study that you can pair with your own adult study. I have a friend who encourages her children to do art journaling right alongside her. Take time to help your children learn the value of God's word.
Faith Rhythm #5: Make church attendance a priority
It is so easy to allow our busy schedules to trump our church attendance. Please don't do this. I'm a huge fan of a children's ministry curriculum called Orange. I read a blog post by them a few years ago about church attendance, specifically in youth groups. In the article, they speak about the value of making sure your teen attends youth group. Although the topic is specific to teens, the sentiment rings true for all age groups. Being together consistently with the same body of believers is beautiful and powerful and necessary for the Christian walk.  I'm sure you've heard the saying "show me your calendar, I'll show you your priorities". If our children do not see us valuing church, why would they ever value it for themselves?
Faith Rhythms Matter!
No matter the approach, you have a great opportunity, this fall, to be intentional in creating faith rhythms for your entire family. Bring God into everything. Point your child back to the author of creation.  Take the opportunity to hear your child's spiritual questions and look for answers in the Bible. Take note of the attributes God has given your child like a generous spirit. Encourage them in their walk with Jesus through devotions and Bible studies. Help them stretch those giving muscles and go to church! Creating faith rhythms takes work and commitment but if you do the work, the eternal impact will be revolutionary.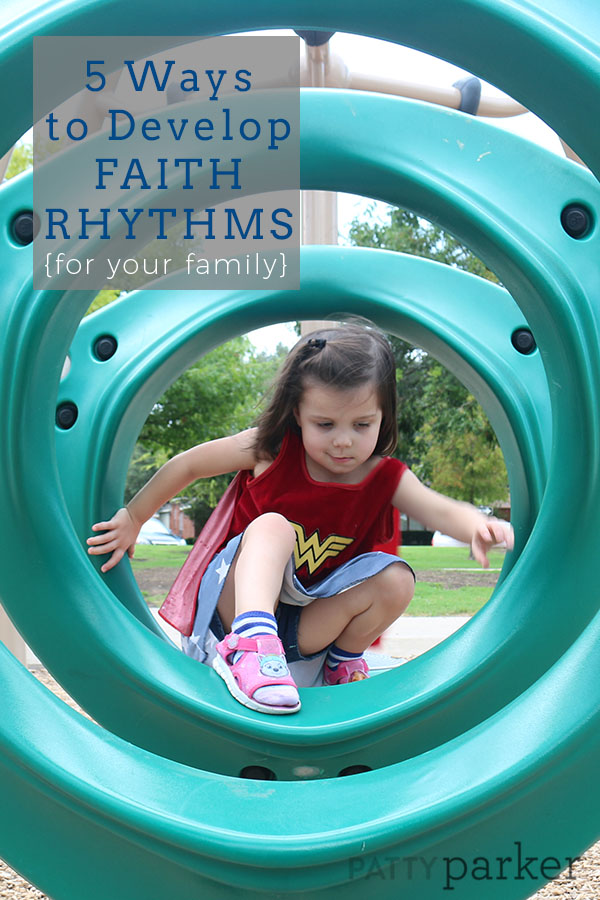 ---
Want more? You'll love this powerful post by my friend Lisa Lloyd, author of  the book: Chasing Famous. She challenges parents to never let up on the spiritual gas pedal, and to resist the urge to coast spiritually once their child has made a decision to follow Christ. Go read it. It's powerful.