A good mom. It can seem like a unrealistic phenomenon. But you are one. You just need to learn how to love yourself unconditionally.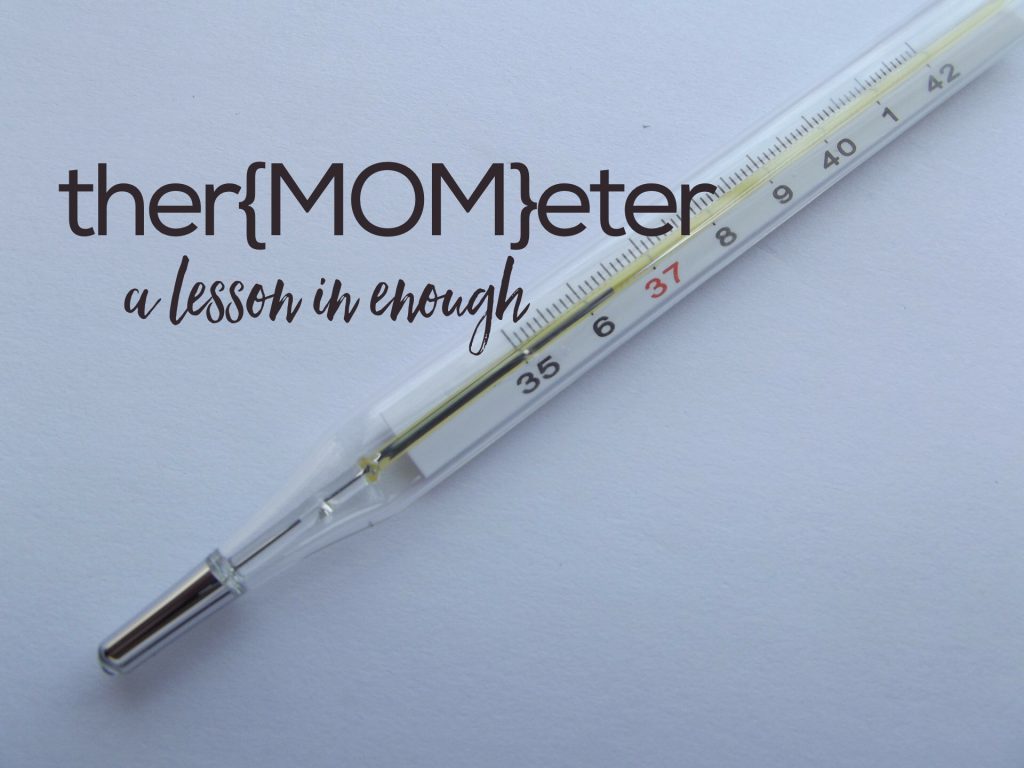 My family has been sick for what feels like forever. The month of November has not been kind to us. Each time someone starts looking puny, my hand reaches for their forehead to check their temperature. And with the confirmation of a fever or virus or stomach bug, the direction of our day and often week totally changes.
Isn't that how motherhood is? We are headed in one direction when, all of a sudden, the temperature of the day changes and our mommy mindset with it.
The Shift
All it takes to go from super mom to super fail is:
walking into a less than favorable parent-teacher conference
realizing your kids seem to be the loudest in the restaurant and no one else is amused
your child has a meltdown in the middle of a store and everyone stares
It is so easy to allow the comments and even the compliments to adjust our mommy perspective.
 "Your kids are so well behaved! You are raising them right, mom!"
"Your child has the best manners. You're a good mommy."
"Your son is so smart. You are doing a great job!"
Let's consider the implication of these statements.
What if my children have meltdowns in public? Are they no longer well-behaved? Am I no longer "raising them right"?
What if my kid hasn't mastered please and thank you yet? Am I bad mom, then? Shouldn't we at least consider the thousands of times I remind them in private to use their manners while holding my breath in public hoping they will produce a "manners crop" worthy of mommy's tireless sowing and tilling at home.
What if my child struggles academically? Am I bad mom if my child doesn't know his ABC's by age three or if he doesn't catch on to reading in Kindergarten as fast as the other children?
Don't Take Credit
I've heard it said: "We can't take credit for the good choices our children make, so why do we allow ourselves to take the blame when they make poor choices?" Why do we allow our value to be so significantly connected to this human being who, from day one, has a personality all his own, quirks and gifts unique to him, and a will that can't easily be deterred?
Perspective. If only I could keep this in the forefront of my mind when things go crazy. I am not a bad parent because my daughter decided to create a poopy Picasso on her bedroom wall during naptime. Having a child who is compliant and the poster child for rule-following does not make me a good parent, either.
It's not either Super Mom or Super Fail. It's just mom. Good mom.
Mom who loves her children.
Mom who prays for her children.
Mom who loses her cool and yet finds the humility and grace to model repentance when she says, "Mommy messed up. Will you forgive me?"
Mom who orders take out. A lot.
Mom who tries her best.
Mom who trusts that if she gives God her most precious possession, her children, that he will lead and guide and order her steps.
Mom who trusts He will bridge the gaps of inadequacy that she feels and faces.

Tossing the thermometer is not easy. As authors Sally Clarkson and Sarah Mae so clearly articulate in their book Desperate,
"Motherhood is a topic in our culture today that elicits countless voices of opinions, polarized formulas, and arbitrary laws set forth by human imperfection. The voices in a mother's life can be overwhelming and destructive if not curbed by the true voice of the Holy Spirit."
God's word is where I challenge you to go when you begin to think:
Am I good enough?
God's word says:  "I praise you because I am fearfully and wonderfully made; your works are wonderful, I know that full well." Psalm 139:14
---
Will I ever get this mom thing right?
The Bible says:  "Being confident of this, that he who began a good work in you will carry it onto completion until the day of Christ Jesus." Philippians 1:6
---
I have no idea what I am doing!
Scripture says: "If any of you lacks wisdom, you should ask God who gives generously to all without finding fault, and it will be given to you." James 1:5
You are Enough
In her book Present Over Perfect Shauna Niequest said,
"It is only when you understand God's truly unconditional love that you begin to understand the worth of your own soul- not because of anything you've done, but because every soul is worthy, every one of us is worthy of love, having been created by and in the image of the God of love."
Dear sweet mom of one or two or ten, God's word says you are loved.
"See what great love the Father has lavished on us, that we should be called children of God! And that is what we are!" 1 John 3:1
Regardless of how you feel you measure up as a parent and most definitely regardless of how your child is acting at this present moment, you are loved and valued.
Whether your children are well behaved or swinging from the chandelier, you are a good mom.
Say that out loud. "I am a good mom".
I think we all need that daily reminder. Before your feet hit the floor, you are a good mom and after your feet step into water from the overflowed bathroom sink, you are still a good mom.
I'm locking arms with you in motherhood solidarity.  You've got this!
Want more?
It is so easy to look at the outside appearances of a mommy who looks like she has it all together. Social media alone can paint a picture of parenting perfection that can cause us to feel as if we'll never measure up. Check out this post, and join me as we put an end to this comparison trap often referred to as the mommy wars. And check out the last post here!