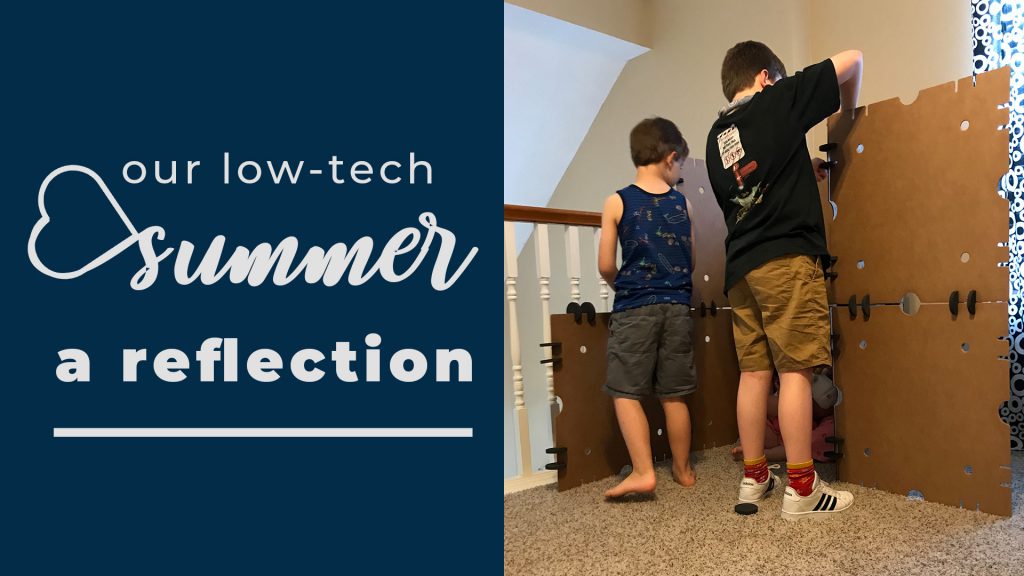 We just wrapped up our first week of school. When the kids hopped in the car on the first day, I heard a question that had all but disappeared for a few months. Can we watch tv? I quickly changed the subject by announcing a trip to get ice cream to celebrate finishing the first day. The response was excitement—mine was relief.
You see, on the last day of school, the kids arrived home to find something missing in the living room. The tv was gone and the room turned into what I dubbed the creation room.
They oohed and ah'd over how the room changed while I counted under my breath how long it would be before someone noticed a missing element. Devin was the first. "Wait a minute! Where's the TV?" They began searching for it only to discover it had been moved to mom and dad's bedroom.
"We're going to have a low-tech summer guys." I pointed them to their summer buckets on the table. "Check out our Parker Family Bucket List." Charlee read them aloud one at a time and I responded with an explanation of what each bucket list item meant.
Their groans were audible but they seemed genuinely excited about what a low-tech summer could mean. The days that followed patterned a detox clinic but after a few days the requests for tv were quickly fading as the delight in creating was shining through.
Our summer was one of, if not the best, we've had as a family and we did it while reducing our use of tech.
Here's a simple breakdown of each bucket list item and how it actually went.
Create More than You Consume
The Plan | We didn't want to remove tech entirely from our household, we just wanted to make sure we were creating more than we consumed. I got this idea from Andy Crouch's book The Techwise Family. In his book, Crouch suggests designating a space for creating. So that's what we did. We took the TV away, organized their craft supplies, brought in games and toys and activities that would encourage creativity.
We also purchased a Make a Fort Kit for our upstairs playroom and made plans to resource our pandemic purchased Water Slide as well.
The Caveats | My oldest 2 still had access to their kindles for books through the week and games for 2 hours on Saturdays and Sundays. We had movie nights once a week using a video screen and projector.
How it Went | I think this was our most successful goal. The creation room became a flurry of delightful creativity. The kids played with legos, colored, played dress-up, played games, made pillow forts. Upstairs they had a blast making forts and mazes and using their imaginations. We used our water slide often and had a few friends over to enjoy it with us. The kindles were used but less and less as the summer progressed. Movie nights became treasured events instead of tv being an expected part of every day.
What Didn't Work | While we didn't use a lot of tech this summer, there was still a lot of consuming of things going on. We purchased a lot of stuff. I wish we had the foresight to also determine to lower our spending as that is a significant element of consumption.
Embrace the Outdoors
The Plan | The goal was to get outside often. We wanted to soak up the sun, see our neighbors, play in the yard and breathe in all the fresh air. We didn't really have a strategy for how to make this happen just a hope that the disappearance of the tv would be a catalyst for going outdoors.
How it Went | It went amazing! We looked for rolly pollies, enjoyed the swing, threw frisbies, bounced balls, enjoyed the water slide, rode bikes, used side walk chalk, talked with neighbors, set "rabbit traps", met up with friends to swim, to play at the park, go to the beach.
What Didn't Work | I wish we could have met up with more people to enjoy the outdoors together, but given our pandemic reality, I can't complain.
Read, Read, Read
The Plan | With no tv to distract, my hope was that they would naturally gravitate towards reading. Their chore chart also requires reading. And we are a reading family.
How it Went | This one was the most easily achievable. We went to the library several times and the kids were ecstatic to bring home new books. I would discover them reading on the couch, in their rooms, together and separately. Sometimes I would have to encourage or remind them to read but for the most part they read naturally on their own. While my mom visited, she read a book to them and they loved it. We also listened to an audio book on a trip out of town.
What Didn't Work | Once or twice Devin came home with a Launch Pad—a tablet with games on it. We would only allow him to have it for a few days before we returned it to the library but I just wish we could have avoided that particular tech over the summer completely.
Cook Together
The Plan | To cook more at home than going out to eat. Use Blue Apron to help with meal planning.
How it Went | I hate cooking. I'm just not very good at it and the decision making element of the dinner hour is overwhelming. So this summer we tried Blue Apron. Without making this paragraph into an advertisement, it took the guesswork and grocery shopping out of meal planning. We've tried new things and made our eating out more intentional.
In addition to regular meals, all three kids decided to fix a meal for us. Their meals were simple but their delight in creating, cooking and serving our family made the dining experience exquisite.
What Didn't Work | We didn't do a lot of cooking together. A few times the kids helped Marshall make a dessert but that was about it. I think next summer we may have a meal each week that is the responsibility of one of the kids to plan and execute with the help of mom or dad.
Laugh Often and Use Our Imaginations
You just can't plan to laugh or will yourself to use your imagination but I am so thankful to report that we laughed so much this summer and the imagination of all 5 Parkers was through the roof. We had talent shows and built circuits. Charlee became a detective spy. Dom engineered a cross bow. And Devin became the finest Cowboy Dinosaur Jedi I've ever seen.
Final Reflections and What's Next
I really enjoyed our low-tech summer. I'm not a super huge fan of the tv in the master bedroom but I am a HUGE fan of no tv in the living room. Marshall and I have talked about when/if the tv returns to a public space and decided that for now, the tv is staying where it is.
We will continue to have our movie nights with the projector screen but we do want to add back in a weekly tradition we began in the early days of the pandemic. On Sundays we would watch a few shows—most recently Andy Griffeth and Family Matters— harkening back to when tv wasn't on demand I suppose. We then wrapped it up with a devotional from Right Now Media. I've really missed that element this summer. So we'll have to figure out what that looks like in the coming days.
Low-tech summer has been a really rewarding element of our summer and, in many ways, we plan to continue our low-tech ways into the fall.
Have you ever experimented with going low-tech? What did it look like for your family? What was the best part? The hardest? I'd love to hear your thoughts!