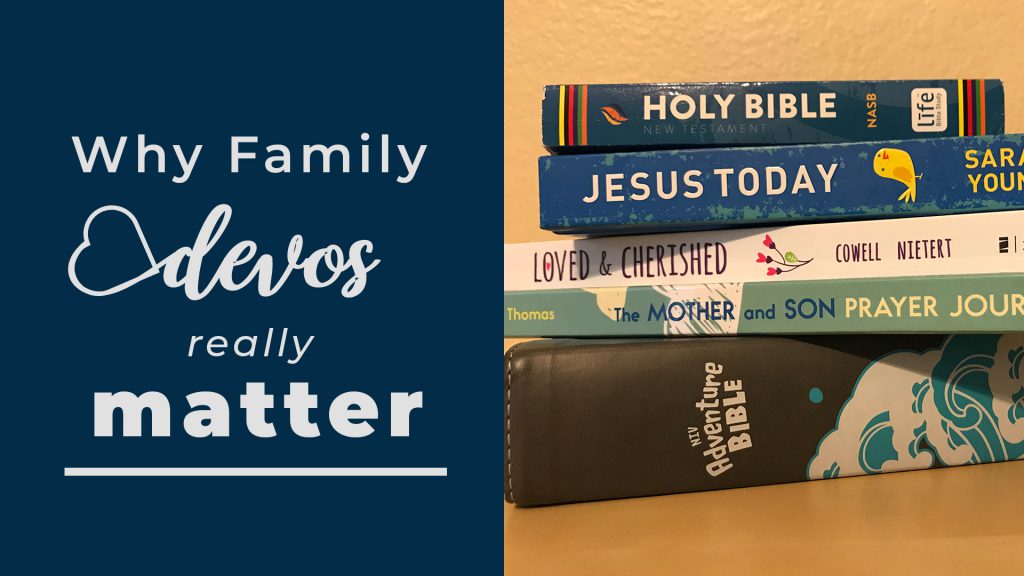 "You should do family worship." I recall these words spoken at a parenting conference many years ago. This directive was followed by a paraphrase of G.K. Chesterton's words: "Anything worth doing, is worth doing poorly." Like many, I heard the first phrase and wrestled with the second. We tried, however, following the template of the leader—worship, a bible story, a discussion with children ages 1, 3, and 5. Lots and lots of tears and frustration later, we gave up.
A few years later, at Pine Cove Family Camp, we experienced a different way of doing family devos. Each morning after breakfast, we would gather on the front porch of our cabin to read from a simple devotion. "Rolls", our devo counselor kept an eye on our wandering 4 year old while our eldest engaged the questions and the middle relished in being near mommy and daddy at the same time. It wasn't perfect but we did it! Five family members ranging from ages 4-39 talked about God. It was possible to have a family devotional time!
But still—we had help. We were away from home. And we were being held accountable. When we came home, we kept it up for a few weeks but the momentum slowed when the challenges of life got in the way. But it sparked something in us. The joy of talking about God as a family was an experience we wanted to repeat—even if it was really difficult. Chesterton's words came back to us: "Anything worth doing was worth doing poorly."
How do you do family devos when you don't have an extra set of hands helping with the baby. What does this look like when you're not on vacation and all the demands of daily life are screaming at you to pay attention to them?
Set Realistic Expectations
Ditch the Pinterest Perfect, Instagram Worthy ideals about family devos. They are messy and hardly go as planned. Devotionals with your 3 year old will look different than they do when you have a 13 year old. If your family is young, family devos may be a Bible Story and prayers at bedtime. If you family has a wide range of ages, the baby may not participate. Even the personalities of your children can change the way you execute a family worship time.
Create Anchors
Anchors hold an object in close proximity. It can be a set time or place or approach. Determine a time or location that is already anchored down by a location or activity and add a spiritual element. For us, family devotionals have been most successful at the kitchen table so our anchor is doing devos with a meal at the table.
Bedtime is another great anchor to consider. Roll it into your bedtime routine of stories. Read a few books and wrap up with a Bible story and a simple prayer. If your children are really young, bath time can be a great time to pray for them and invite them to act out Bible stories.
The joy of talking about God as a family was an experience we wanted to repeat—even if it was really difficult.
Use a Resource that Works for You
There are a TON of resources out there for family or kids devotions.
Books
If your kids love reading books, an age appropriate Bible like Jesus Story Book is a great resource. We also love Love Does for Kids by Bob Goff. They are simple 2-3 pages stories connected to a specific bottom line. Jenny Allen recently started a book series called Theolaby that all three of our children have enjoyed.
Videos
There are also fantastic resources through Right Now Media. We are currently going through Phil Vischer's What is a Christian? Every Sunday afternoon, we sit down and watch this 8-10 minute video that ends with simple questions we can answer together as a family.
Digital Devos
The Bible App isn't just for adults. There are devotionals for kids as well. We love the one's based on Louis Giglio's books, Indescribable and How Great is Our God.
Church Resources
I am so thankful for our children's ministry. They have weekly resources they send home for the kids to do that enforce the Bible story. Your church likely has something similar and even if they don't, ask your kiddo what they learned. Talk about the Bible story all week. It there was a bottom line or memory verse, work on memorizing it together and putting it into practice.
Nature and Experiences
When our kids were young, simply pointing out nature was a great way to have conversations about God. Point to the sky and ask your little one "Who made the sky? That's right God made the sky! Let's thank God for making the sky!" As they age, hearing an emergency response team come by can prompt a prayer for their safety and the people they are helping.
Know Your Why
Family Devotionals is not just the Jesus thing to do, it is life-giving and habit forming. It's a valuable part of growing your child's faith. But just like your family dynamic is different, your devos will look different and may not happen as consistently as you want or hope. But don't give up. If it take you two weeks to finish a 5 day devotional, who cares! You're putting in the time to make it work and that is what matters.
If you feel like your family starts and stops with family devos, congratulations! You are not alone. The goal is to keep going. In fact, Deuteronomy 6 says to talk about God when you wake up, when you're hanging out at home, in the car and before bed (Patty paraphrase). That sounds like all the time!
4 Hear, O Israel: The Lord our God, the Lord is one.5 Love the Lord your God with all your heart and with all your soul and with all your strength. 6 These commandments that I give you today are to be on your hearts. 7 Impress them on your children. Talk about them when you sit at home and when you walk along the road, when you lie down and when you get up. 8 Tie them as symbols on your hands and bind them on your foreheads. 9 Write them on the doorframes of your houses and on your gates.

Deuteronomy 6:4-9
It's Worth It
The Parkers are experts with off and on devotions. But we've decided to keep going no matter the gap between because the gradual reward of talking about God is no joke—eternal. Don't give up. Keep talking about God. Create space to study God's word. But remember there's only one wrong way to do Family Devo's and that is to not do them at all.
What about you? What makes your devo time work? What struggles do you face? Do you find yourselves doing the on and off approach to family devos?