Chasing Famous, Living the Life You've Always Auditioned For  is a book about learning our true purpose. As author Lisa Lloyd points out, everyday we fight for the spotlight. In reality, center stage is reserved for only one: God. Through personal stories, scripture passages and reflection questions, Chasing Famous takes you on a journey to discover how you can use your gifts and talents to point to the Famous One. Here are:
3 Reasons I Loved Chasing Famous
 
Chasing Famous Uses Acting Terminology
Each chapter is titled using a phrase from the industry. Isn't that clever?! For example: "The Aside", "The Stage Mom", "Love Scene". My favorite chapter was called "Wait for your Cue". In it she explains the importance of an actor waiting for her cue. If an actor takes the stage too soon, the scene is haphazard; too late and the audience is left hanging. Then she turns the reader's attention to the story of Moses who, at 40 years old, experienced God's call on his life. And yet, he didn't take the stage right way. He had to wait on God's cue which had very little to do with Moses being ready and everything to with when the time was most opportune for God to receive the glory.
What if God's timing in my life has less to do with me and more to do with His divine plan?
 Chasing Famous is Relatable
Every chapter shares a story about her life and how God uses her experiences to make Him famous. I'm not a performer by any stretch of the imagination, but I can relate to her down to earth examples and see how I can mirror God in my life.
I especially loved her chapter called "Stage Mom". It's all about parenting. We all want our kids to make the right choices  and ultimately honor God but how do we do it? Lisa shares about her eldest's first encounter with a lingerie poster at the mall. Instead of willing the moment to pass, she used it as an opportunity to parent on purpose and teach about purity. She goes on to share values that her family practices with the desire to raise children who make God famous.
…our jobs, whether parents or guardians or grandparents, is to help shape and mold our kids' character. Because kids with character can change the world – or at least their little corner of it. We can empower them to impact their communities, neighborhoods, workplaces, and families, no matter their age or ours.
Chasing Famous Makes God Famous
I want to make Him famous. The book did it's job. I would describe myself as an introvert with extroverted dreams. I typically thrive in one on one conversations. Stick a microphone in my hand and if I'm passionate enough about my topic, I can hold my own but it's not really a natural setting for me.
There's a meme that says something along the lines of.
Me in writing: Pulitzer worthy.
Me in person: lacking in social skills.
All the same, I dream of big things. Published works. Yes. I want to write for more than a hobby. I long to be paid to do this thing I love so much. I'd love to write multiple books! And maybe one day these dreams will be a reality. Regardless of the largeness or more realistic smallness of my reader audience, however, I am called to chase God's fame. To proclaim the goodness of Him. My eyes welled up with tears more than once as I faced the mirror and found myself center stage and God the supporting role.
My final thoughts
I adored this book. I found myself feeling the gamut of emotions. From awe to conviction. From inspired to deeply moved. It's been a few weeks since I completed this book in it's entirety but one sentence continues to haunt me…in a good way. In chapter 12, the author says, "May we not miss the opportunity to be used by God where we are because we are so consumed with a desire to be used by God where we're not." May I truly be excited about the opportunities right in front of me. And may they all be for His glory.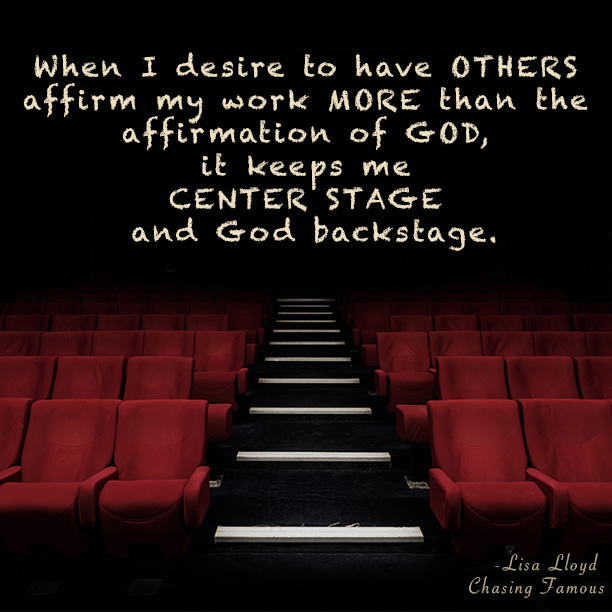 I loved Chasing Famous and I know you will too!
The contest below is closed but you can always order Chasing Famous here!
---
Did you know you're constantly, often unconsciously, auditioning for a part? Learn how to master these issues and turn the spotlight on God with the help of Lisa Lloyd's new book, Chasing Famous. Chasing Famous is a redemptive book that teaches us how to take the focus off ourselves and shift it back on to the glory of God. Written by a professional actress who readily admits that she is the most self-centered person she knows, Chasing Famous provides practical and sometimes humorous examples of scriptural truth that will help you master the natural self-centered tendencies of life.
Discover what life really means when the focus is on God and enter to win Lisa's Spotlight on God Prize Pack!
One grand prize winner will receive:
A copy of Chasing Famous
A $50 Fandango gift card to see a current or upcoming movie that puts God in the spotlight
Enter today by clicking the icon below, but hurry! The giveaway ends on April 28. The winner will be announced May 1 on the Litfuse blog.
---
I am honored to be a part of the Chasing Famous Blog Tour!! I received a complementary copy of this beautiful book of which I devoured in a matter of days. You can check out other reviews on the blog tour here.
---
Want more? You can check out all my book reviews here!