Love and marriage. Marriage is awesome. Add the twist of kids and you are in for the adventure of a life time. Fortunately and unfortunately, the familiar lyrics, "A baby changes everything", are true!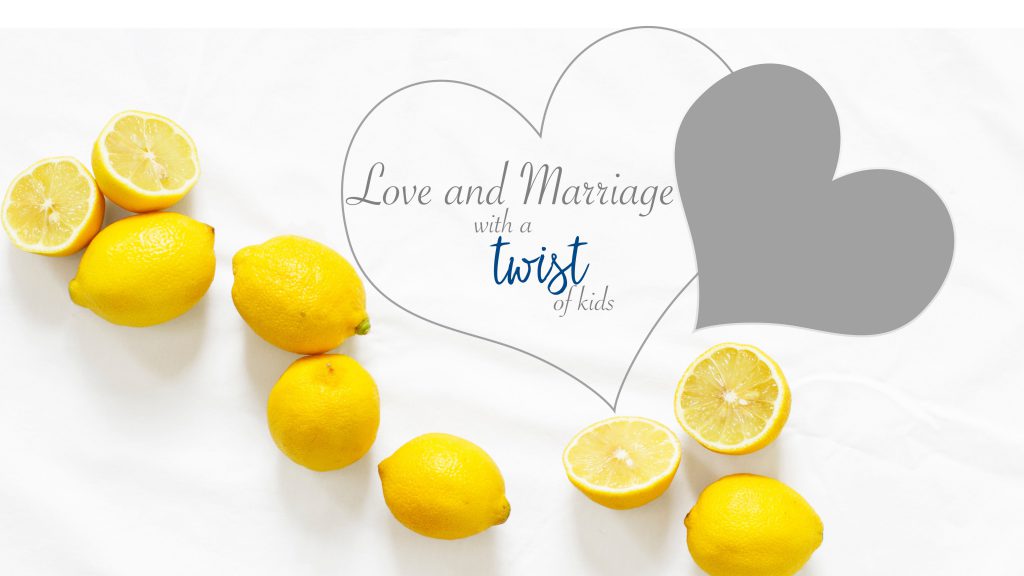 Here are 3 ways kids change your marriage: 
1. You find out how selfish you can be.
Gone are the days of sleeping in or even through the night for at least the first few years! Here's where the selfishness starts rearing it's ugly head. The baby starts crying in the middle of the night. He's been waking up wet and this is a task that either of you can handle. You try to ignore it at first hoping your husband will hear. Then you gently nudge him and roll over inconspicuously. He continues to snore. In a final effort, you sit up in a huff and hope he'll wake up and offer to take care of baby. It's no use. He doesn't hear your offspring. It's up to you to change the wet diaper of the child who was knit together in love who is now interrupting your sleep while your husband peacefully sleeps the night away. Don't get me wrong sleep deprivation is a form of torture for a reason! All the same, no one really gets excited about waking up in the middle of the night. It's a death to self and an act of love.
As your children age, your evenings that used to be filled with spontaneous and quite cleverly crafted date nights are now commandeered by bedtime routines filled with bath times and books and boo boos and thirsty little ones. Don't even get me started on the homework that comes with starting school! When your children are finally quarantined to their rooms at least for a few hours, you collapse on the couch, remote control in hand, trying to ignore the dinner dishes and leftovers that need to be put away. Romance in any form is not on your mind. You are tired. You are ready to call it a day.
Yep. Kids show us our selfish ways.
2. You need to work hard and, as a team, to make your marriage work.
Marriage is not a solo sport. Disagreements need to be handled more quickly. The Bible is clear about not allowing the sun to set on our anger but I feel this clearing the air is even more important with children.
Consider this scenario: You have an argument on Sunday night. In the rush of everyone getting out the door for school and work on Monday morning, you barely say three words to one another. Dinner is rushed to get this one to practice and that one to a meeting. The next day is filled with the same chaotic rhythm and, all of a sudden, you find yourself waking to the sunrise of Friday and you haven't resolved your conflict. The issue that was relatively small on Sunday has now festered. There's this awkwardness to overcome and a double dose of humility required if there's any hope for reconciliation. Repeat this process for a few months or years and you get to that place where two strangers are living together while raising their offspring.
Making peace isn't the only area that needs constant team work. What about intimacy? We need intimacy. We should crave intimacy, but just as someone who is past the point of dehydration may not even realize how thirsty she is until that first sip of water, we may not realize how deprived of intimacy we are until we have that first restorative conversation or kiss. That, my friend, takes teamwork. You can't regress back to dating days of old where he plans everything and you just respond. With kids, you need to work together. What does that look like? I can't say what is going to work for you but I can share some things that have worked for us.
Kid Friendly Date Ideas:
Lunch Dates– Thankfully all three of our children are in school at least 2 days a week. Every week, my husband and I meet for lunch. Sometimes it's leftovers. Other times, we try out a new lunch venue in town. No matter the spot, it's an opportunity to have conversation WITHOUT the littles interrupting!
Date Nights IN– We have found success dating each other after the kids are in bed. Whether it's a movie or binge watching a favorite show or having beautiful conversation while eating dessert, it all counts!
Parents Night Out Programs– We are so blessed in our area to be able to take advantage of monthly date nights through a local non-profit and quarterly date nights through our church. These are our lifeline. We block these dates on our calendar and are literally crushed when something has to take priority over it.
Talking Over the Noise– It used to drive me crazy trying to talk to my husband while the kids were underfoot. There would always be an interruption or tears or some catastrophe that would get in the way of a simple conversation with the man I love! Then one day, I just kept talking over the noise and tears. And I felt so much better.
Coffee Dates– These are amazing and I've mentioned them before. My husband and I sit and drink our home-brewed coffee at 6:30 in the morning before the kids are scampering about. It's treasured moments to talk about the week ahead, stare in dazed confusion for 30 minutes and sometimes we have beautiful deep conversations that just well up out of no where. We never know what we're going to get but we absolutely adore our time together!
3. Intimacy has a deeper meaning
There's a picture I reference often to my husband. It's a picture of he and I flying kites. We are both at our physically fittest. He was doing sprint triathlons and I was running 5k's.  We were eating healthy and on top of our married dating game. I mean, kites! How adorable and sweet is that! I often reference this picture to my husband because I long to be that size again. What I have realized, recently, is what this picture lacks. What it lacks is the beauty and depth of intimacy that we have gained over these almost 7 years since we started our parenting journey with a lovely little symbol on a pregnancy test. So much life has happened since we flew our kites carefree on a warm spring day. Life experiences for which I am so thankful.
Our marriage is very different with kids. Each day, as we work hard to overcome our selfish tendencies and find time to grow our relationship amidst activities and commitments, we go deeper. When my husband places one of our children on his shoulders to check the mail, or I recall how he stayed by my side during a c-section although he was so scared, he demonstrates the depth of his love. The man who will unload the dishwasher or have a tea party with our daughter. The man who listens to me and never tires of my random rants and dream speaking. The one who has prayed for me and I for him. And I have loved and supported him and his dreams. That's the depth of love that has taken place in our lives through our children.

A Beautiful Plot Twist
Having kids does add a twist to love and marriage. It's hard work to parent and keep marriage a priority. We learn daily to die to our selfish wants and needs. Do we have our selfish moments and days and months? Oh, yes. We learn through these interactions to be more self-less.
We have found that we need to work as a team for the betterment of our marriage and the longterm health of our most significant product our our love: our children.
I am so thankful for this man that I can do life alongside. The flowers and the gifts are wonderful. I adore the deep conversations and when he tells me I'm beautiful. However, his love for me is multiplied when he sits down to play a game of Princess Candyland with his little girl. When I overhear his patient voice as he works with our son on Math homework, I am head over heels.
On this Valentine's Day, whether you go all out for the candy and teddy bears or if Valentine's day turns into a toddler free-for-all complete with antibiotics and Paw Patrol, may you feel loved and show love. Kids and all. Marriage is truly awesome. Add a twist of kids and the adventure just gets a little more amazing.